Author
William Leventon
Published
March 09, 2021 - 11:00am
With conventional broaching, a special machine pushes or pulls a toothed cutting tool called a broach over or through a metal surface to create a polygon shape, such as a spline or keyway. But by putting a wobbly spin on the process, shops can quickly and accurately cut the same shapes without a broaching machine.
This broaching technique is known as rotary broaching because rotation plays a key part. Although no broaching machine is required, people who wish to try the method need a couple of special components: a rotary broach toolholder and a rotary broach. Common rotary broaches are made of high-speed steel, which is very hard and good for cutting a variety of metals. At the end of a rotary broach is a precision-ground form that matches the desired part shape.

Rotary broaching tools machine a knurl on the OD of a steel part. Image courtesy of Slater Tools
Polygon Solutions Inc. in Fort Myers, Florida, makes sure the rotary broaches it sells don't have sharp corners.
"Most of the time when a broach fails, it chips on a corner," said President Steve Derbin. "So a corner radius helps."
Process and Products
In a lathe, the rotary broach rotates 1-1 with the workpiece while the toolholder body remains stationary. The tooling is driven by the workpiece, so live tooling is not required.
The toolholder includes an internal live spindle that holds the broach at a 1-degree angle relative to the spindle. This produces a wobbly rotational motion, which is why rotary broaching also is known as wobble broaching. The result is chisellike action that rapidly cuts one corner of the shape at a time as the broach is fed through the workpiece to the finished depth.
The idea is to reduce pressure generated by the operation so it can be done on a CNC machine. Consider, for example, rotary broaching a hexagon form.
Although the entire form is created in a single pass, "there is not that much pressure because you are basically cutting out one corner at a time rather than putting the full form in at once," Derbin explained.
When it comes to rotary broaching, he said, "all the magic is in the toolholder," which features a freely rotating spindle on the front end supported by a set of bearings.
Rotary broach toolholders come in adjustable and adjustment-free styles.
"If you are using a really precise Swiss machine, you can just mount an adjustment-free holder in the machine and let it run while the adjustable will compensate for any machine misalignment," said Kris Renner, director of operations at Clinton Township, Michigan-based Slater Tools Inc., which offers a variety of internal and external rotary broaches.
Adjustable holders can be centered right on the machine.
With rotary broaching, "we want to keep the pressure down, and centering is important for that reason," Renner said.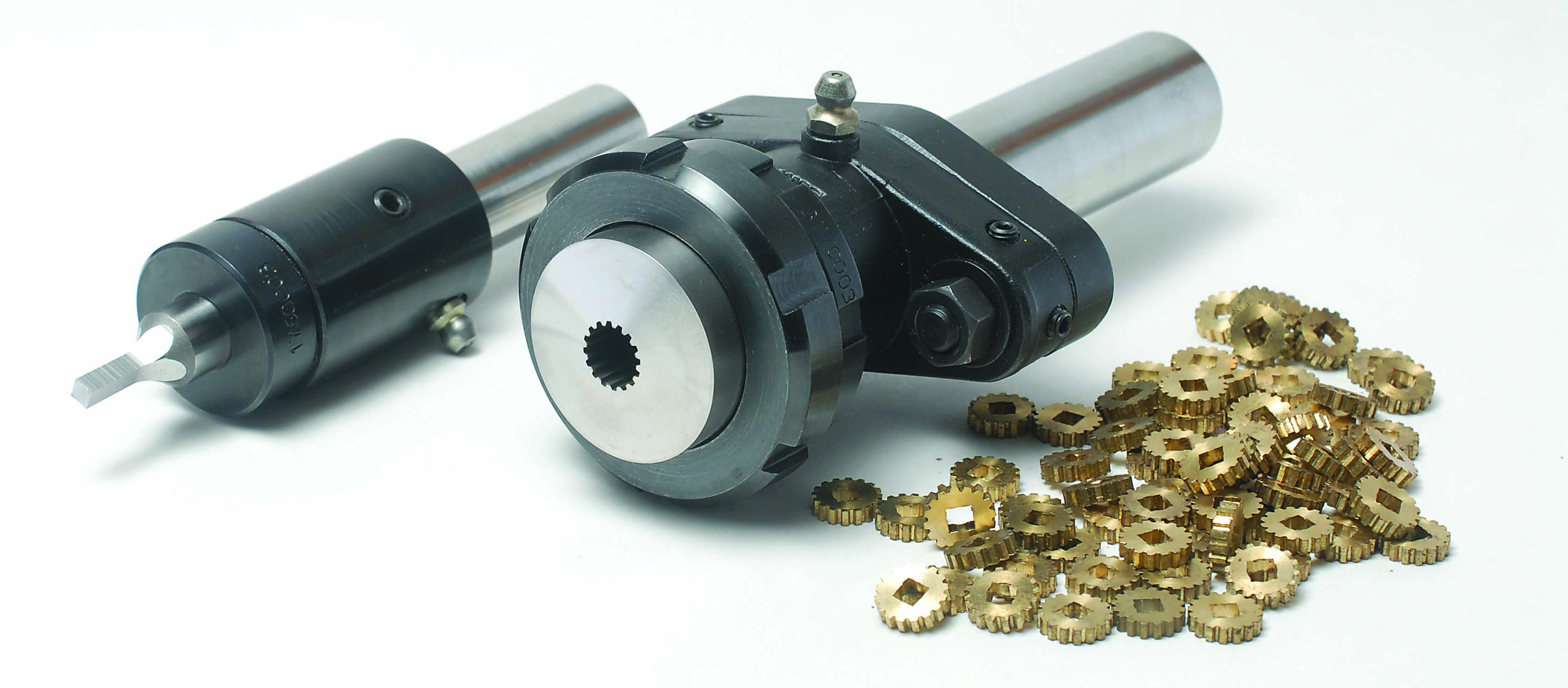 These rotary broaching tools produced an OD spline and ID square on brass parts. Image courtesy of Slater Tools
Rotary broaching can produce many internal and external forms. In addition to splines, keyways and hexagons, these include squares, serrations and Torx and Rosan types. Unlike broaching machines, rotary broaching can make internal forms in blind holes, as well as through-holes, Derbin said.
Why It Pays
Creating a shape with a broaching machine is a secondary operation performed after turning or milling the workpiece. By contrast, rotary broaching can be done on any lathe, mill or machining center at the same time as other operations. (In a mill, the rotary broach remains stationary with the workpiece on contact while the toolholder body rotates in the machine spindle.)
"In today's machining world," Renner said, "time is money, so that helps our customers be competitive."
The same rotary broach toolholder can be used on a lathe or mill.
"It's not machine-specific like a lot of toolholders," Renner said. "We have people using it on super-old turret lathes and new and expensive five-axis vertical machining centers."
A rotary broaching operation is completed in seconds and can create forms with an accuracy of 0.0127 mm (0.0005") or better. In some cases, thousands of parts can be broached before a tool change is necessary.
Nevertheless, Renner pointed out that conventional broaching is still popular in part because of the limitations of rotary broaching. For one thing, she said using rotary broaching to produce form sizes greater than approximately 50.8 mm (2") in diameter or forms that go deeper than about 1.5 times the major diameter would create so much pressure that it would trigger a CNC machine alarm.
In addition, rotary broaching workpieces made of materials over about 42 HRC "really takes a toll on tool life," Derbin said. "You can do it, but you're only going to get one or two parts per broach."
Rotary Broaching Applied
Derbin reports that rotary broaching commonly is used today to create small features for the plumbing, medical and aerospace industries. For example, he noted that the technique is the only option for aerospace firms machining Rosan ports. These are blind holes, so the only other way they could be created is with wire electrical discharge machining. This process, however, produces so much heat that it can cause the ports to fracture.

The blue alignment brake on the GT series rotary broach toolholder can orient a broach in the same position for each part. Image courtesy of Polygon Solutions
By contrast, rotary broaching is "a very low-heat operation," he said.
In addition to cutting metal features, rotary broaching can be used on plastic workpieces. The good news about applying the process to plastics is that it's not constrained by the same limits that exist when cutting metals.
"With plastics, either the chip kind of flakes off or they cut like butter," Renner said. "So you aren't going to have that pressure limitation that you have with something harder."
This means that more material can be cut at one time and that broached forms can be larger and go deeper than what would be allowable with metals.
Not Standing Still
Rotary broaching is an old technology but hasn't stood still over the years. Slater Tools, for example, has upgraded both its rotary broach materials and coatings over time.
"We are constantly working with new types of coatings," Renner said, "and we do a lot of internal trials and research to make sure we are giving our customers the best solution for their particular application."
The best solution, however, isn't necessarily the hardest coating.
Sometimes an extremely hard coating "can create a cutting edge that is too brittle and will chip more readily," Renner explained. "So it's important that we do our research."
At Polygon Solutions, Derbin and his colleagues have worked with metallurgists to develop proprietary heat-treating processes for rotary broaches. After heat treatment, the firm cryogenically freezes the blanks to bring the metal molecules back together and improve mechanical properties.
In addition, the company now offers both rougher and finisher broaches.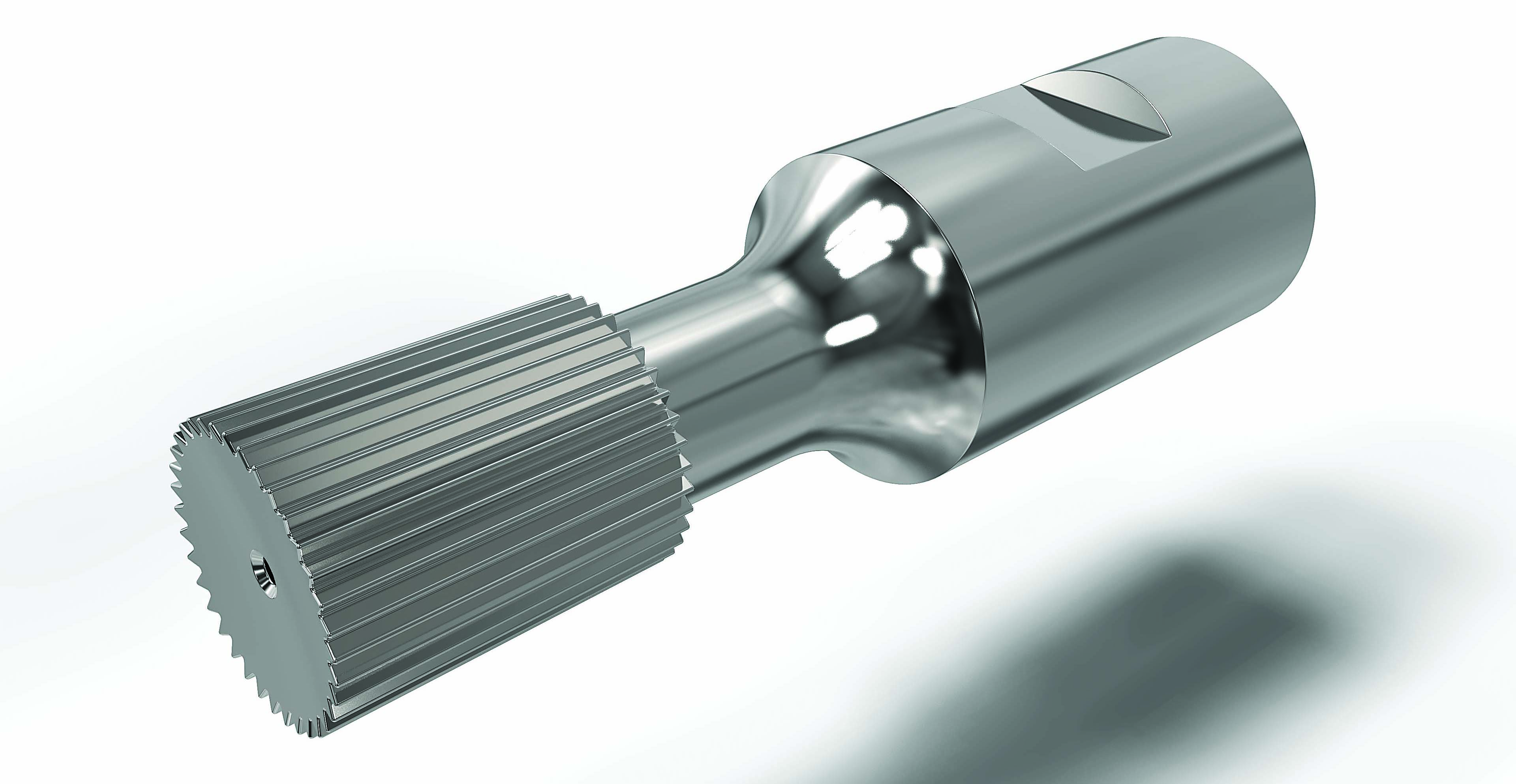 Rosan port rotary broaches are used widely in the aerospace industry. Image courtesy of Polygon Solutions
"If you have a bigger form, we can make you two broaches to go in back to back," Derbin said. "You broach a rougher form and then broach the finishing form behind it. That reduces your chip load because now you are curling a couple of passes' worth of chips instead of one big chip."
By using combinations of rougher and finisher broaches, customers have been able to produce much larger teeth on forms like serrations and involute splines, he said.
As for toolholders, a major development at Polygon Solutions was the introduction of its GT series rotary broach toolholder. Adjustment-free GT series holders feature sealed bearings that don't require greasing, as well as a pressure-relief hole in the side that matches up with a hole that runs through the broach being held. This small passageway allows hydraulic pressure to be relieved when a blind hole is being broached.
Follow Instructions
Before any rotary broaching process begins, shops should follow the part preparation instructions provided by equipment suppliers. To create an internal shape, for example, Slater Tools advises customers to pre-drill or pre-turn the workpiece to the diameter recommended for the application and add a lead-in chamfer to ensure gradual broach engagement with the workpiece.
"It's all about creating a good-flowing chip and keeping the pressure down," Renner said.
Although simple, proper part preparation is extremely important.
"It makes all the difference in the world," Renner said. "If you don't do it, you're going to be banging your head against the wall."    
---
Odd-Shaped Alternative
In some situations in which rotary broaching is used, machining firms might find that another option could save time and money, said Sean Doherty, technical sales team leader at Schwanog LLC in Elgin, Illinois.
For instance, Schwanog's PWP broaching system can produce internal and external shapes, such as serrations, splines, hexagons and keyways, on CNC lathes with a c-axis. The system includes an insert ground to create the desired shape, a retaining screw and a steel toolholder.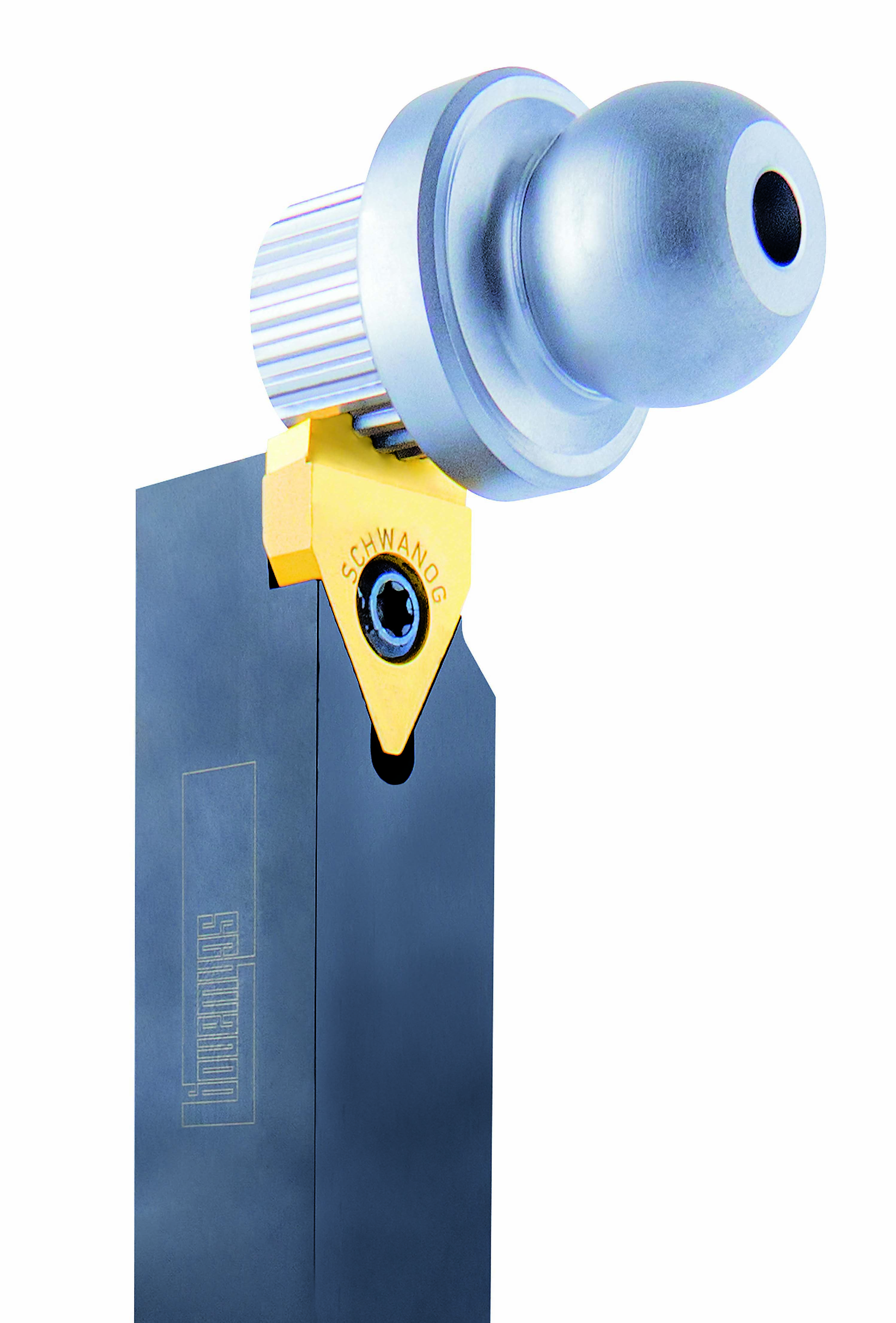 The PWP system cuts an external shape. Image courtesy of Schwanog
To produce an external serrated surface with 40 teeth, for example, the company can grind an insert with 10 teeth that would complete the cutting in four passes, indexing 90 degrees after each pass. Machining of a serrated part made of 1045 steel can be completed in just seven seconds, according to the company.
Customers have told Doherty that a custom rotary broach costs over $100, a holder system costs a few hundred dollars and delivery times run from five to eight weeks. By contrast, he noted, Schwanog's custom-ground inserts usually cost around $50 to $80, depending on the quantity ordered, and holders are roughly $100 for most outer-diameter broaching applications while lead times are only three to four weeks.
In addition, he said the fact that Schwanog tools don't encapsulate the whole part or cover the entire inner-diameter area helps with chip control.
"Chips have a place to go," Doherty said, "and coolant can flow in there and flush out parts."
—William Leventon
---
For more information about broaching, view a video presentation from Schwanog at cteplus.delivr.com/2cta2