March 15, 2016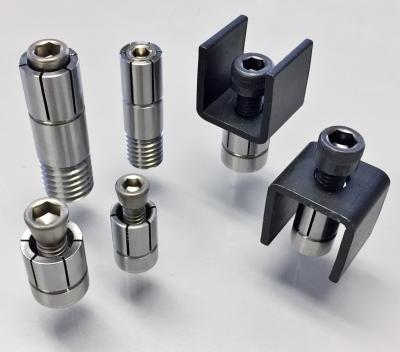 Mitee-Bite Products releases the patent pending Modular XYZ Xpansion Pins for tombstone, grid plate and fixture plate applications. They provide accurate location, repeatability and high holding forces for securing parts and components on the ID.
Available in a threaded version for the most popular tombstones and grid-plates, internal rotary broach for simple install/removal and a shorter "press fit" in a variety of sizes. They are manufactured from 17-4 PH.
Related Glossary Terms
broach


broach

Tapered tool, with a series of teeth of increasing length, that is pushed or pulled into a workpiece, successively removing small amounts of metal to enlarge a hole, slot or other opening to final size.

fixture


fixture

Device, often made in-house, that holds a specific workpiece. See jig; modular fixturing.

inner diameter ( ID)


inner diameter ( ID)

Dimension that defines the inside diameter of a cavity or hole. See OD, outer diameter.
Additional Products from Mitee-Bite Products LLC