September 30, 2022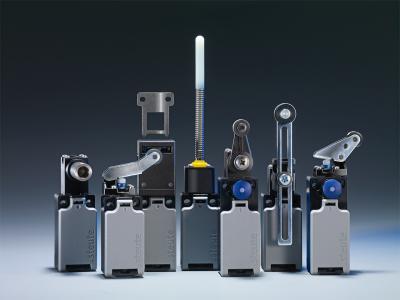 One of the features of the recently developed ES/EM 97 series of position switches currently being launched by the steute business unit "Automation" is a modular design.
The actuator heads can be easily fastened, replaced or turned in 90o steps with four captive screws. The switching inserts can be removed after opening the screw-free cover – simplifying installation.
With these features, steute aims to make its ES/EM 97 series universally applicable throughout the automation industry. Accordingly, it has a wide range of actuators (various fulcrum levers, roller levers, spring rods...) and dimensions to EN 50047, the prevalent standard for automation technology.
The new series can also be used in machine safety applications, i.e. as position switches with safety function. Paired with a suitable receiver, they achieve a safety level in line with Performance Level e to EN ISO 13849-1 and SIL 3 to EN 62061.
For the position switches with safety function, two additional actuator heads are available. In the "AZ" version, the ES 97 becomes a safety switch with a separate actuator – the classic design for position monitoring of guard doors in line with machine safety. And the ES 97 SB is suited to space-saving hinge- mounted position monitoring of turning guard doors.
The steute business unit "Automation" is thus expanding its product range to include a – like all steute switching products – particularly flexible, robust and high-quality series of position switches which can be flexibly adapted to suit individual applications.
Related Glossary Terms
modular design ( modular construction)


modular design ( modular construction)

Manufacturing of a product in subassemblies that permits fast and simple replacement of defective assemblies and tailoring of the product for different purposes. See interchangeable parts.

turning


turning

Workpiece is held in a chuck, mounted on a face plate or secured between centers and rotated while a cutting tool, normally a single-point tool, is fed into it along its periphery or across its end or face. Takes the form of straight turning (cutting along the periphery of the workpiece); taper turning (creating a taper); step turning (turning different-size diameters on the same work); chamfering (beveling an edge or shoulder); facing (cutting on an end); turning threads (usually external but can be internal); roughing (high-volume metal removal); and finishing (final light cuts). Performed on lathes, turning centers, chucking machines, automatic screw machines and similar machines.