September 19, 2023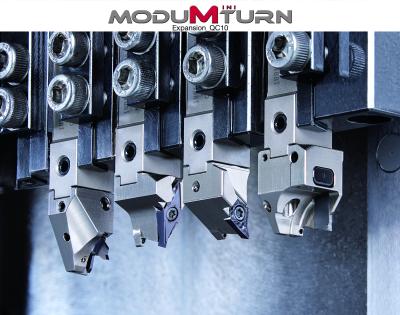 Tungaloy's ModuMiniTurn modular turning tool system for Swiss machines now offers QC10 series featuring 10x10 millimeter square shanks.
The ModuMiniTurn modular turning tool system incorporates an advanced coupling mechanism between the modular head and tool shank, ensuring exceptional repeating accuracy for the cutting point when swapping out modular heads for new inserts. This system achieves an impressive repeatability accuracy within the five micron range, effectively minimizing downtime during tooling changeovers.
New QC10 series incorporates 10x10 millimeter square shanks that are ideal for use in mini lathes and Swiss machines with smaller footprints that typically carry downsized tool posts.
Similar to the established QC12 and QC16 lines, QC10 ensures a secure coupling between the modular head and shank. This design guarantees tool stability and high cutting edge repeatability, resulting in significant time savings during tool changeovers.
The QC10 series offers an extensive selection of modular heads for applications including forward turning, back turning, grooving, parting, and thread turning. All modular heads have an internal coolant channel designed to deliver high pressure coolant precisely where it is needed, close to the cutting point. This improves chip control and also extends tool life.