February 24, 2023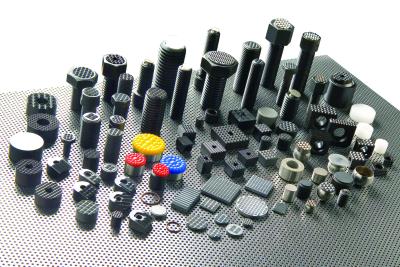 Fixtureworks® (Fraser, MI), a leading North American manufacturer and supplier of clamps, fixturing accessories, machine tool components and rollers & bumpers, offers a complete line of industrial gripper inserts. Used in jigs, fixtures, and chuck jaws, these adjustable and fixed gripper inserts are versatile enough to fit any number of applications.
Fixed grippers are available in round, square, and angle configurations with a host of different serrated tooth patterns. The gripper contact materials include high-speed tool steel, solid carbide, carbide tipped and urethane surface.
Round and square steel grippers are made from M-2 high speed steel. Hardened to Rc 60/62 with a black oxide finish. They are serrated for positive holding in tough applications. While the carbide tipped grippers are brazed to a heat-treated alloy steel body with a blind hole tap for back side mounting and flat on O.D. for setscrew mounting.
The lineup includes solid carbide grippers for high wear and high load applications. While the SofTop™ urethane grippers are available in a variety of durometers and are permanently bonded to a 300 series stainless steel pad. The non-marking, non-staining urethane provides excellent protection against damage on delicate work surfaces.
The diamond abrasive gripper's surface is permanently fused to a stainless-steel pad. The surface texture is comparable to a 100-grit abrasive and are ideal for holding smooth or slippery applications with a minimum of clamping pressure, while providing unparalleled wear resistance.
The adjustable grippers come in a variety of configurations from hex, round to threaded body., The threaded body allows the user to adjust the height of the gripper. The serrated carbide tip provides positive holding and wear resistance.
Unique to Fixtureworks, TG GripSert™ inserts grip steel materials, with only 3.5 mm of clamp surface needed to securely hold the workpiece, they are ideal for 5-axis machining operations because they create a pull-down effect that prevents any lifting of the workpiece while clamping. They offer many advantages over traditional clamping systems. Their special triangular shape with a 5-degree tapering and teeth geometry combine to provide exceptional clamping stability with no need for pre-machining or dovetailing workpieces. TG GripSerts grippers are designed to absorb and dampen vibrations, providing secure and stable holding at lower clamping forces which prevents deformation of the workpiece.
Swivot™, another specialty of Fixtureworks is a swivel gripper that provides superior holding power for a variety of applications. Swivots are a modular component system that can swivel and tilt to compensate for workpiece angles and irregularities.
To complete the lineup, gripper rest pads are ideal for industrial grade contact wear points in automation and positioning applications. Black nitrile rubber (60A durometer) is molded to a malleable aluminum backing that can be formed to round or sharp corners. Rest pads are made from white Delrin. They are non-marring and non-absorbing.
In addition to grippers, Fixtureworks, quick release fasteners, quick action sliding locks spring plunger clamps, handle and levers, knobs and grips, equipment handles, hand wheels and cranks, hinges and latches, leveling supports, industrial rubber bumpers, stops and wheels, fixture clamps, clamping locating systems, work positioning elements, vises, grippers and mechanical linear actuators.