March 12, 2019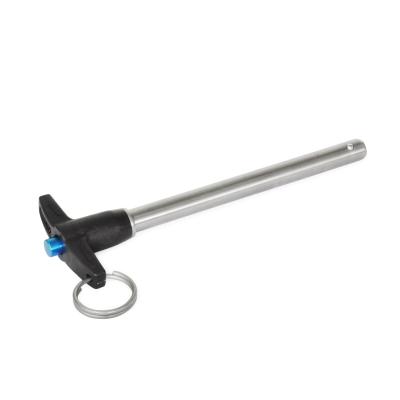 JW Winco Inc. offers WN 100.1 T-handle inch size rapid release pins with stainless steel shank.
The WN 100.1 T-handle rapid release pins have a wide range of applications in fastening, locating and alignment applications. "The pin will not release until the button on the handle is depressed," said John Winkler, CEO, Office of the President at JW Winco. "Once the button is depressed, the balls retract into the shank allowing the pin to be inserted into or removed from its position."
The product is appropriate for applications within the packaging, medical, woodworking, workholding and material handling industries.
The shaft, inner spindle, split ring, spring and balls are all stainless steel, while the handle is a die cast aluminum with a black anodized finish. The rapid release pins are available upon request in other diameters, materials, lengths and handle configurations.
Related Glossary Terms
shank


shank

Main body of a tool; the portion of a drill or similar end-held tool that fits into a collet, chuck or similar mounting device.