January 01, 2015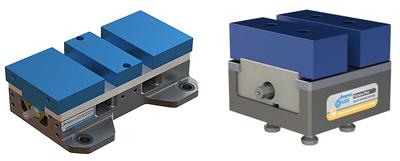 Jergens Inc. introduces two of its latest top tooling solutions. A 130mm low-profile vise to effectively extends the work area for multi-axis applications. Part of the Fixture Pro family, this vise permits increased Z travel while maintaining the same characteristics as the company's larger vises, ensuring stability, repeatability and long service life. Available in standard and Drop & Lock versions, for quickness and accuracy, the new vise is one of many Jergens solutions designed to reduce set up time. In addition to the low-profile solution,
Jergens also introduced their Dual Station Production Vise line which includes 6" widths in 15" length versions. These vises permit the use of full 6" width on vertical machining centers with narrow tables that typically pose table overhang and clearance issues. These short length vises are available in three body styles; narrow base, Ball Lock base and with a universal design for easy direct to table mounting.
Related Glossary Terms
centers


centers

Cone-shaped pins that support a workpiece by one or two ends during machining. The centers fit into holes drilled in the workpiece ends. Centers that turn with the workpiece are called "live" centers; those that do not are called "dead" centers.

clearance


clearance

Space provided behind a tool's land or relief to prevent rubbing and subsequent premature deterioration of the tool. See land; relief.

fixture


fixture

Device, often made in-house, that holds a specific workpiece. See jig; modular fixturing.