November 22, 2019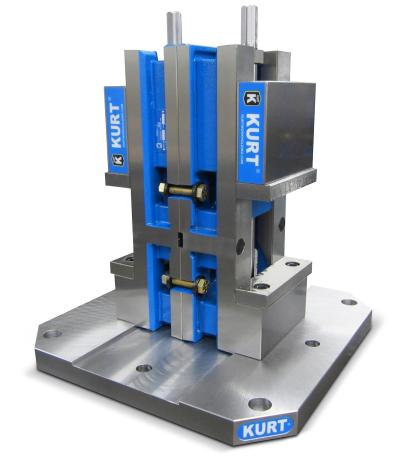 Machine shops looking to utilize tombstone workholding fixtures on their horizontal machining centers should know about the economical and convenient way of setting-up their machine using Kurt VersatileLock vises mounted back-to-back. The VersatileLock tombstone setup can be used on a wide range of existing HMCs, particularly smaller ones with work envelope size and weight limitations. The VersatileLock back-to-back tombstone can be 200 to 300 lbs. lighter (depending on model size) than a tombstone with clamps or vises.
The VersatileLock vise used in the VersatileLock back-to-back tombstone is available in 4", 6" and 8" vise models with jaw capacity ranging from 4" to 10" for clamping small to larger parts. VersatileLock back-to-back vise tombstones can be mounted on most HMC pallets. Because of their narrower profile and lighter weight, these tombstones will fit into smaller machining centers than larger vise tower setups. Assembled at Kurt's factory using very tight tolerances, these back-to-back tombstone fixtures utilize standard vise components mounted to a base.
The rigid, compact design of the back to back tombstone assembly is made possible by the VersatileLock one-piece vise body and stationary jaw design integrated with Kurt's time-proven Anglock feature. The pull-type jaw clamping design reduces jaw stationary deflection by at least 80%. This provides highly precise clamping repeatability of 0.0005".
VersatileLock vises used in back-to-back tombstones have matched stationary jaws coplanar within 0.001". The body heights are matched ±0.001". The one-piece vise body and stationary jaw provides maximum strength while reducing deflection. Clamping force for the 6"-capacity manual 3600V model is 6,356 lbs. at 80 ft.-lbs. of input torque. The AngLock design resists any tendency for part lift during machining operations. The 80,000-psi ductile iron body provides stability to eliminate chatter or vibration from the process.
Related Glossary Terms
centers


centers

Cone-shaped pins that support a workpiece by one or two ends during machining. The centers fit into holes drilled in the workpiece ends. Centers that turn with the workpiece are called "live" centers; those that do not are called "dead" centers.

chatter


chatter

Condition of vibration involving the machine, workpiece and cutting tool. Once this condition arises, it is often self-sustaining until the problem is corrected. Chatter can be identified when lines or grooves appear at regular intervals in the workpiece. These lines or grooves are caused by the teeth of the cutter as they vibrate in and out of the workpiece and their spacing depends on the frequency of vibration.

work envelope


work envelope

Cube, sphere, cylinder or other physical space within which the cutting tool is capable of reaching.