December 01, 2014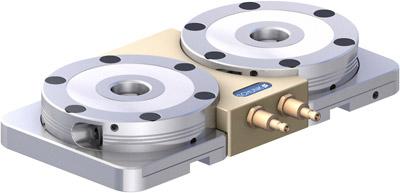 With a module height of 20mm, the VERO-S NSE mini module from SCHUNK provides ideal conditions for retrofitting existing machines, making full use of the engine room, and direct clamping of small workpieces.
The patented drive concept consists of a fast stoke and a clamping stroke, ensuring that the compact module has a highly compact performance. At a module diameter of 90mm, and a clamping pin diameter of only 20mm, the NSE mini also has an integrated turbo function and enormous pull-in forces up to 1500 N. Locking is done mechanically via spring force. The large contact surfaces between clamping slide and pin minimize the surface pressure in unclamped condition, and the wear of the module.
Even small workpieces can be directly clamped, and are completely machined from five sides without restricting accessibility. This is done by screwing the clamping pins of the Quick-Change Pallet Systems directly into the workpiece. The components are quickly exchanged in the machine, and are positioned, fixed, and clamped in the Quick-Change Clamping Modules at a repeat accuracy of less than 0.005mm. In order to optimize accessibility, the clamping height of the workpieces can be adjusted with module height extensions, so the machine spindle can reach all five sides of the workpiece without needing special tools.
The NSE mini is fully equipped to maximize service lifetime and process reliability. All functional components, base body, clamping pin, and clamping slide are made of hardened stainless steel and are completely sealed to protect against chips, dust and coolant. To prevent chips from jamming in the module during workpiece change, the base plate can be provided with a bore hole for an air feed connection for blow off.
Related Glossary Terms
coolant


coolant

Fluid that reduces temperature buildup at the tool/workpiece interface during machining. Normally takes the form of a liquid such as soluble or chemical mixtures (semisynthetic, synthetic) but can be pressurized air or other gas. Because of water's ability to absorb great quantities of heat, it is widely used as a coolant and vehicle for various cutting compounds, with the water-to-compound ratio varying with the machining task. See cutting fluid; semisynthetic cutting fluid; soluble-oil cutting fluid; synthetic cutting fluid.

feed


feed

Rate of change of position of the tool as a whole, relative to the workpiece while cutting.