March 01, 2015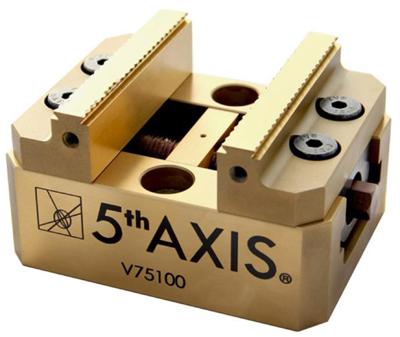 5th Axis Inc. announces the introduction of its newest V75100 self-centering 5-axis vise. Designed to be the smallest self-centering vise in the 5th Axis product line, the V75100 offers maximum rigidity and clamping force in a compact package. The V75100 is for all 5-axis machining operations. Its compact footprint makes it ideal for smaller 4- and 5-axis mills.
"When our team attended IMTS in Chicago last year, we found there were increased customer requests for a smaller vise so we immediately went to work to meet this demand" said Chris Taylor, Co-CEO.
"There is really no other vise on the market that offers the flexibility that this unit offers," added Steve Grangetto, Co-CEO.
The V75100 pumps out 4,000 lbs. of clamping force at 45 ft. lbs. of torque. It provides access to five sides of the work piece, featuring a built in 45 degree dovetail, and gripper teeth that bite into stock without the need for a stamping unit.
Built from heat treated steel, the V75100 is milled and precision ground to exacting standards. With a centering accuracy of .0005", it is one of the most precise self-centering vises available, according to the company.
The removable and reversible master jaws allow for an increased clamping range .05" to 3.5". The jaws are simple to remove allowing for quick changeover between hard and soft jaws.
When the V75100 was designed, the goal was to have quick and easy alignment features. Two precision threaded shoulder bolts secure and locate the jaws of the V75100. The vise also utilizes a threaded centering hole and two self-centering clocking holes at 30mm.
Features of the V75100:
• Heat treated/precision ground body
• Coated lead screw for lubricity and wear resistance
• Removable/reversible jaws that offer increased clamping range
• Threaded center and clocking holes to accept locating pins of all different diameters
• Gripper teeth that bite into stock without the need to prep material
• Built-in standard 45 degree dovetail allowing increased clamping force
Related Glossary Terms
centering


centering

1. Process of locating the center of a workpiece to be mounted on centers. 2. Process of mounting the workpiece concentric to the machine spindle. See centers.

lubricity


lubricity

Measure of the relative efficiency with which a cutting fluid or lubricant reduces friction between surfaces.

wear resistance


wear resistance

Ability of the tool to withstand stresses that cause it to wear during cutting; an attribute linked to alloy composition, base material, thermal conditions, type of tooling and operation and other variables.