February 18, 2019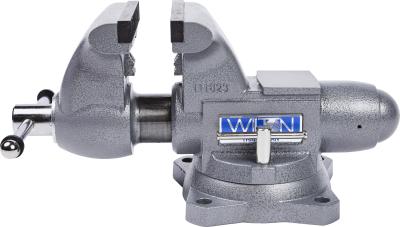 Wilton has introduced a new version of its iconic Tradesman bench vise, which features a fully sealed, one-piece spindle nut assembly; redesigned spindle assembly with replaceable Tommy bar; precision machined slide; and machined steel serrated jaw inserts with black phosphate, anticorrosion coating.
Tradesman is Wilton's top-selling bench vise and a shop-floor favorite in the manufacturing, fabrication, automotive, construction and oil and gas industries. The new Tradesman version comes in four sizes, with jaw widths of 4½", 5½", 6½" and 8".
Tradesman's spindle nut is securely anchored at the rear, rather than fixed in the center. This design provides an even, straight-line pull that decreases backlash and increases clamping force, while significantly extending service life. The bench vise's round channel design allows for a fully enclosed and sealed spindle assembly, which keeps debris out and retains lubrication for years of smooth, maintenance-free operation.
The Tradesman's redesigned spindle assembly features a replaceable Tommy bar, which allows for decreased cost of ownership if this component is damaged. A round, precision-machined steel slide bar eliminates movement of the front jaw, regardless of the opened distance.
For additional versatility, the vise is equipped with replaceable, serrated jaw inserts and pipe jaws. The durable, machined-steel jaw inserts are black phosphate coated for increased corrosion resistance. An oversized, striking anvil, is built to take a beating during the shaping or forming of metal and other materials.
The 60,000-psi, ductile iron body, jaws and base of the new Tradesman vise are virtually indestructible and backed by Wilton's lifetime warranty. The vise has a 360º swivel base with a four-bolt mounting system and double lockdowns. Both the locking nuts and base have serrated edges that engage securely when tightened to prevent rotation of the vise without slippage during use.
Wilton Tradesman bench vises (4½", Model 1745, $479.99 MSRP), (5½", Model 1755, $589.99 MSRP), (6½", Model 1765, $659.99 MSRP) and (8", Model 1780A, $979.99 MSRP) are available through industrial distributors and several online retailers.
Related Glossary Terms
backlash


backlash

Reaction in dynamic motion systems where potential energy that was created while the object was in motion is released when the object stops. Release of this potential energy or inertia causes the device to quickly snap backward relative to the last direction of motion. Backlash can cause a system's final resting position to be different from what was intended and from where the control system intended to stop the device.

corrosion resistance


corrosion resistance

Ability of an alloy or material to withstand rust and corrosion. These are properties fostered by nickel and chromium in alloys such as stainless steel.

shaping


shaping

Using a shaper primarily to produce flat surfaces in horizontal, vertical or angular planes. It can also include the machining of curved surfaces, helixes, serrations and special work involving odd and irregular shapes. Often used for prototype or short-run manufacturing to eliminate the need for expensive special tooling or processes.