September 26, 2018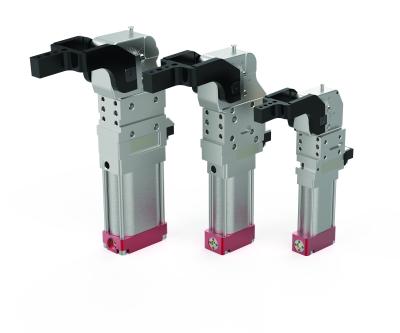 Destaco is launching its TCC-2E Series Tolerance Compensation Clamps (TCC), which provide greater flexibility in welding and assembly applications that require the clamping of components of differing thicknesses or tighter tolerances.
"The introduction of the TCC-2E Tolerance Compensation Clamp is the latest innovation in our Power Clamp portfolio," said Matt McCartney, Destaco's vice president, strategy, marketing and product management. "The TCC-2E has been designed to significantly improve the setup and changeover times of production lines by eliminating the need to manually adjust clamps for different sheet-metal thicknesses. The TCC-2E interacts seamlessly with our complete portfolio of power clamps, pin clamps and pin packages, which gives our entire client base another powerful tool to assist them with their most challenging workholding applications."
The new TCC-2E model, which is directly interchangeable with Destaco's 82M-3E Series Power Clamps, is especially suitable for flexible manufacturing applications in the automotive, aircraft and consumer goods industries. An example of this in the automotive industry is the handling of vehicle chassis of varying thicknesses on a single production line. This operation has historically required the use of two clamps that are adjusted for different material thicknesses, but now with the Tolerance Compensation Clamp, a single unit can be used for multiple material thicknesses, resulting in reduced setup times and production costs.
The TCC-2Es are available in a variety of sizes. They feature an enclosed body that protects the internal mechanism and have been tested to be maintenance-free for 3 million operating cycles. Various cylinder designs with unlockable nonreturn check valves, hold-open devices and rod-lock units are available to meet the needs of every unique application.
Related Glossary Terms
tolerance


tolerance

Minimum and maximum amount a workpiece dimension is allowed to vary from a set standard and still be acceptable.