October 11, 2019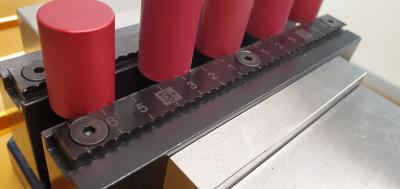 Mitee-Bite Products introduces the TalonGrip long-length serrated grip. The new grips were produced as a "drop fit" into the original 6" TalonGrip jaw set and provide line contact the full length of a workpiece. The standard TalonGrip grips are popular due to being compact (0.750" or 19 mm) long and designed to be placed anywhere in jaw whenever specific tooling clearance is required. All TalonGrips and VersaGrips remain a standard for fixturing when low-profile workholding is desired opposite Mitee-Bite's Pitbull clamps for the most demanding applications.
Manufactured from S7 steel, heat-treated and then finished with a black oxide coating, providing a tough, low grippers. Each long length grip is laser engraved with a 10 mm scale, allowing the user multiple reference points when repeatable part placement is needed.
"We received countless requests for long grips and we're excited to add them to our TalonGrip product line up," said Mitee-Bite General Manager David Bishop. "We are always striving to bring our customers innovative products designed to help increase productivity with a quick ROI."
Related Glossary Terms
black oxide


black oxide

Black finish on a metal produced by immersing it in hot oxidizing salts or salt solutions.

clearance


clearance

Space provided behind a tool's land or relief to prevent rubbing and subsequent premature deterioration of the tool. See land; relief.