September 27, 2018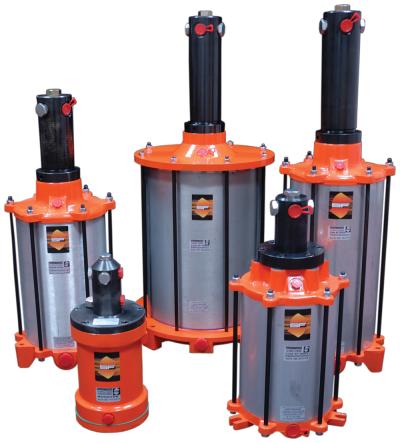 Secure clamping of the workpiece is vital for almost any job, from jewellery making to car engine rebuilding. WDS Component Parts Ltd. offers the full and expanding range of Spencer Franklin Hydraclamps. Hydraclamps are a workbench clamp from WDS.
The clamps provide 360° access to the workpiece and to allow quick and easy repositioning in multiple planes. Made in-house at WDS's headquarters, there are nine different versions and many different sizes, each with a different clamping action and load capacity. The range is complemented by a number of accessories that serve to extend the capabilities of the Hydraclamp even further.
The smallest clamp in the range is the 1200M Mini, which is 125mm high and has a clamping force of up to 6kg. It is suitable for mounting on a workbench and is popular with both professionals and hobbyists. It is used in many diverse fields, from professional jewellery making, orthodontics and electronic assembly to home wood carving, modelling etc. Manually activated by a simple lever action, the clamp includes a ball arm so is highly maneuverable and can be used with a variety of different face plates, which can be configured for use in a range of applications. Accessories that extend its capabilities even further include lock grip pliers and a suction pad base that will hold the Hydraclamp secure on any smooth surface and is an alternative to bolting it down.
By contrast, the largest Hydraclamp is the industrial-sized 1600M, which can securely hold workpieces weighing up to three-quarters of a tonne (750kg). The clamping force is applied by a large angled capstan type screw handle.
It is available in a number of different styles and the accessory range means it can be adapted to meet the needs of many different applications. Intended for use with workpieces too heavy for a person to lift, extra supportive ball bearings are included to ensure safety while still allowing safe and easy repositioning.
A popular accessory for the 1600M is a foot pedal actuator which is used to replace the capstan so that operators have both hands free. Significantly, the pedal includes an intensifier so that high clamping pressures can be achieved.
Between the 1200M and the 1600M Hydraclamps are a wide range of intermediate sizes and a full complement of accessories that allow them to be adapted to an almost infinite range of duties. They all use the ball arm design that lends manoeuvrability to the workpiece.
The larger sizes of Hydraclamp are activated by a screw mechanism rather than the lever action of the smaller ones. The screw mechanism is fitted with an adjustable, lockable safety sleeve, which is used to set the preload to match the weight of the workpiece so that it can be safely repositioned between different operations without the risk of suddenly dropping and causing damage or injury.
All Hydraclamps hold their workpieces firmly and securely and are engineered to allow smooth easy movement of the workpiece through a range of positions. This means the workpiece can be repositioned at will, thus providing maximum access for hand tools and inspection.