March 01,2014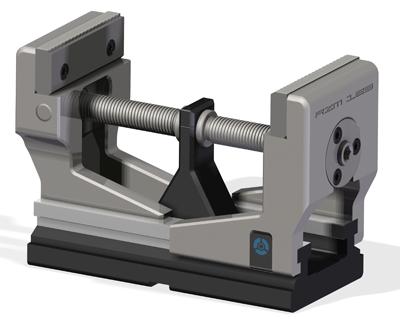 The newly redesigned RZM centric vice from Röhm Products of America provides exceptional workholding rigidity and contributes significantly to higher accuracy 5-axis machining.
The vice's new design features clamping jaws positioned relatively high and a horizontal spindle situated at the top of the vice and closer to the jaws for unmatched stability. The jaws are shorter and complement the vice's overall compact height of only 7.7" to keep interference to a minimum, while the company's special double jaw-guidance system ensures precision positioning.
The double jaw-guidance system moves jaws smoothly along their axes to accommodate a wide range of part sizes without having to remount the jaws. In operation, the first jaw moves along an outside guideway as the second jaw travels on an inside one. This quasi-telescopic arrangement allows for a greater guidance length without placing any significant limits on machining operations. When fully opened, the RZM presents little, if any, interference, and its telescoping design allows the jaws to close to the zero point.
For small or fragile parts, the company offers its SKB claw jaws as an attachment for the RZM. These jaws securely clamp unfinished parts at depths as shallow as 0.078". Hardened claws on the jaws create an interlocking hold for extremely strong clamping, but with minimal required force and only a slight loss of material.