September 01,2015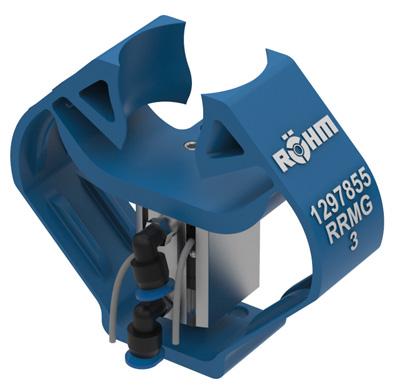 RÖHM Products of America the new, customizable RRMG synthetic gripper. It brings 30 percent more clamping force to large workpiece handling than its predecessor.
Reportedly perfect for the secure gripping and clamping of complex, sensitive parts, the lightweight, yet robust RRMG synthetic gripper has jaws with free-form surfaces that adapt to different workpiece geometries, whether they be round or prismatic in shape.
The RRMG has an optimized structure with reinforcements for maximum rigidity and long service life. It can perform up to 16 million gripping cycles without experiencing wear or requiring maintenance. For maximum process control and automation, users can add optional position monitoring to the RRMG via installable sensors.
Available in two sizes with gripping forces of 80 and 152 (N), RÖHM is able to customize the RRMG by developing these grippers around the 3D workpiece models provided by customers. The company also relies on selective laser sintering to manufacture these products.
According to Ervin Vallejo, RÖHM automations product manager in North America, the RRMG grippers along with the company's swivel units and tool changers easily add increased reliability, productivity and profitability to automated manufacturing processes. "While our smart, flexible end-of-arm tooling is well known and widely used overseas, my goal is to grow market share for these products in North America – and advanced solutions such as the RRMG will make it possible," he said.
Related Glossary Terms
process control


process control

Method of monitoring a process. Relates to electronic hardware and instrumentation used in automated process control. See in-process gaging, inspection; SPC, statistical process control.

sintering


sintering

Bonding of adjacent surfaces in a mass of particles by molecular or atomic attraction on heating at high temperatures below the melting temperature of any constituent in the material. Sintering strengthens and increases the density of a powder mass and recrystallizes powder metals.