July 01, 2014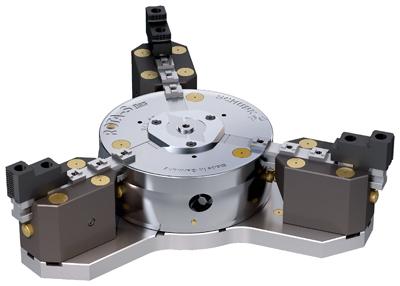 SCHUNK has developed the manual chuck ROTA-S flex, particularly for machining a wide workpiece range on mill/turn machines. It is the lathe chuck ROTA-S plus with extended guideways transformed into a large, lightweight chuck (for its capacity), which makes it particularly versatile.
Compared to conventional lathe chucks used for large clamping diameters, the weight with ROTA-S flex is approximately 60 percent of a conventional chuck with the same capacity, according to the company. At an identical table load much heavier workpieces can be machined, and due to the low height, enough space remains for the workpiece and the tools. For machining smaller workpieces, the extended guideways can easily be disassembled, considerably improving workpiece accessibility compared to a clamping application with conventional large chucks. A special lubrication system ensures permanently high clamping forces for both versions. Dirt seals prevent chips and dust from entering the chuck.
The ROTA-S flex can be easily assembled on a machine table, and by using the optimized jaw quick-change system, retrofitting can be done within seconds. The chuck clamps small parts as reliably as large ones, ensuring operator safety. The clamping solution is available in sizes 700, 1000, and 1200 for ROTA-S plus, and the manual chuck ROTA-S plus 2.0 is available in sizes 315, 400, and 500. Depending on the size, the chuck (without top jaws) weighs 170 kg, 360 kg, or 490 kg respectively. The ROTA-S flex can be combined with numerous chuck jaws from the company's 1,200 types.
Related Glossary Terms
chuck


chuck

Workholding device that affixes to a mill, lathe or drill-press spindle. It holds a tool or workpiece by one end, allowing it to be rotated. May also be fitted to the machine table to hold a workpiece. Two or more adjustable jaws actually hold the tool or part. May be actuated manually, pneumatically, hydraulically or electrically. See collet.

lathe


lathe

Turning machine capable of sawing, milling, grinding, gear-cutting, drilling, reaming, boring, threading, facing, chamfering, grooving, knurling, spinning, parting, necking, taper-cutting, and cam- and eccentric-cutting, as well as step- and straight-turning. Comes in a variety of forms, ranging from manual to semiautomatic to fully automatic, with major types being engine lathes, turning and contouring lathes, turret lathes and numerical-control lathes. The engine lathe consists of a headstock and spindle, tailstock, bed, carriage (complete with apron) and cross slides. Features include gear- (speed) and feed-selector levers, toolpost, compound rest, lead screw and reversing lead screw, threading dial and rapid-traverse lever. Special lathe types include through-the-spindle, camshaft and crankshaft, brake drum and rotor, spinning and gun-barrel machines. Toolroom and bench lathes are used for precision work; the former for tool-and-die work and similar tasks, the latter for small workpieces (instruments, watches), normally without a power feed. Models are typically designated according to their "swing," or the largest-diameter workpiece that can be rotated; bed length, or the distance between centers; and horsepower generated. See turning machine.