September 01, 2010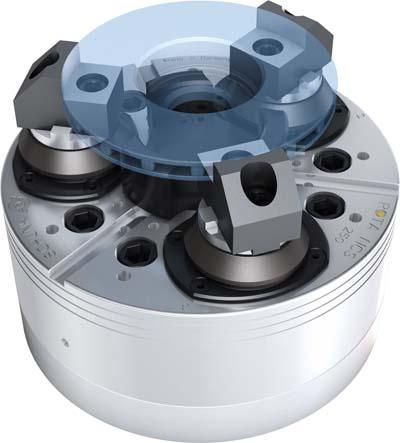 When facing quality demands that are constantly increasing in today's machining industry, the ROTA NCS is a forward looking development that ensures the user a maximum degree of security in investment. The ROTA NCS sealed 3-jaw power chuck from SCHUNK combines high clamping force with maximum precision affording sound workholding for the most difficult of applications. With an active pull-down effect that creates a 2-plane holding technique, achievable axial run-out accuracy is less than 0.01mm. At the same time, the integrated permanent lubrication ensures a constant jaw clamping force, hence a permanently high level of efficiency. Hermetically sealed against the finest dust and coolant, the ROTA NCS is largely maintenance-free. All functional parts are also hardened and ground; which ensures a long tool life. With its low height, the chuck also ensures that there is sufficient space in the machine envelope. The ROTA NCS 3-jaw power chuck is available in sizes 165, 210, 250, 315, 400 and 500.
Related Glossary Terms
chuck


chuck

Workholding device that affixes to a mill, lathe or drill-press spindle. It holds a tool or workpiece by one end, allowing it to be rotated. May also be fitted to the machine table to hold a workpiece. Two or more adjustable jaws actually hold the tool or part. May be actuated manually, pneumatically, hydraulically or electrically. See collet.

coolant


coolant

Fluid that reduces temperature buildup at the tool/workpiece interface during machining. Normally takes the form of a liquid such as soluble or chemical mixtures (semisynthetic, synthetic) but can be pressurized air or other gas. Because of water's ability to absorb great quantities of heat, it is widely used as a coolant and vehicle for various cutting compounds, with the water-to-compound ratio varying with the machining task. See cutting fluid; semisynthetic cutting fluid; soluble-oil cutting fluid; synthetic cutting fluid.