October 25, 2018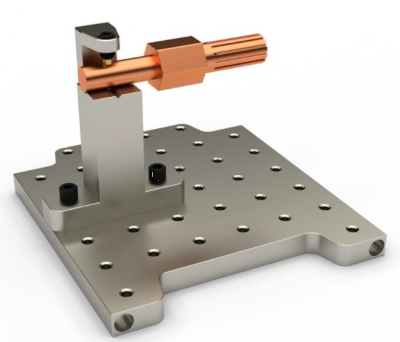 Phillips Precision's Products Division announces its newly modified Riser-Grip clamp as part of the Inspection Arsenal LEAN, Quick-Swap inspection fixture system. Not only does Phillips Precision offer the only quick-swap standard fixture systems, but they provide quick, creative fixture design and quick shipping of your orders. Inspection Arsenal tooling will help optimize your inspection process and uncover hidden profits.

The redesigned Riser-Grip full-access clamps are now even more versatile. The two-piece design allows the top jaw containing a brass tipped set screw to adjust up and down and lock into place. V-grooves are added to the holding surface bi-directionally to secure small round parts for inspection.
Threaded holes in the base accommodate stops. Riser-Grip is machinable and can be customized for unique parts. Use for coordinate measuring machine and vision inspection. Able to secure parts of 0.0" to 2.1" (0mm to 53.3mm) in thickness. Clear anodized aluminum. Fits ¼-20, 1/2" and 1" fixture plate hole patterns. Inquire about Riser-Grip for metric hole patterns.
Related Glossary Terms
fixture


fixture

Device, often made in-house, that holds a specific workpiece. See jig; modular fixturing.