April 12, 2016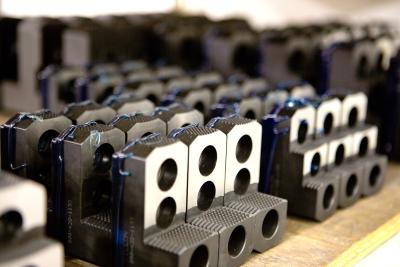 Reversible hard jaws from Dillon Manufacturing Inc., which are suitable for ID and OD workholding, can reportedly decrease the time and cost of tool setups, yet still accurately grip and locate workpieces. The jaws hold a specific range of part sizes and are usually used for first operation workholding.
They are available in serrated, Acme Key, square key and tongue-and-groove styles to fit all brands of chucks. These single- or two-step jaws feature diamond-shaped serrations, which provide accurate gripping and parts locating.
They are manufactured of 8620 steel, case hardened, with ground locating surfaces and black-oxide coated for corrosion resistance. Dillon also offers custom made special or modified hard jaws.
Related Glossary Terms
corrosion resistance


corrosion resistance

Ability of an alloy or material to withstand rust and corrosion. These are properties fostered by nickel and chromium in alloys such as stainless steel.

inner diameter ( ID)


inner diameter ( ID)

Dimension that defines the inside diameter of a cavity or hole. See OD, outer diameter.

outer diameter ( OD)


outer diameter ( OD)

Dimension that defines the exterior diameter of a cylindrical or round part. See ID, inner diameter.