March 01, 2015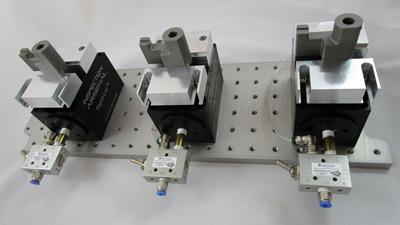 Phillips Precision's Products Div. introduces the Rapid-Loc pneumatic vise for CMM inspection. Designed to take advantage of the air at a CMM, the soft jaws of the Rapid-Loc vise can be customized to hold most any part. Regulated air pressure can produce just enough clamping force to hold delicate parts or as much as 150-lbs if needed. Mount Rapid-Loc vises on Inspection Arsenal Loc-N-Load quick-swap fixture plates for fast, accurate, and highly repeatable setups that help break inspection bottlenecks. Rapid-Loc can also be mounted on existing CMM breadboards.
The black anodized, aluminum Rapid-Loc pneumatic vise is currently available with a 2.5"x 3.5" footprint, .06" travel, 150-lbs of force and comes with 1 set of machinable aluminum soft jaws. Secure Rapid-Loc with standard or metric thread screws. A smaller vise is under development and will be released for production later this spring.
Order the Rapid-Loc vise body and add your own fittings and soft jaws or order the vise fully assembled with fittings, valves, and tubing – even mounted on a Loc-N-Load plate sized per your job. Add multiple Rapid-Loc pneumatic vises per fixture plate with soft jaws machined to hold one part or multiple parts per vise.
When you send Phillips Precision electronic part files the company will send a custom, turn-key Rapid-Loc pneumatic fixture ready for work.
Related Glossary Terms
fixture


fixture

Device, often made in-house, that holds a specific workpiece. See jig; modular fixturing.