April 12,2012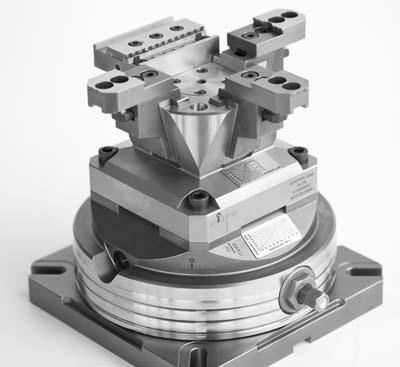 Whether actuated manually or hydraulically the QUADROK clamping system from Hainbuch America Corp. provides all possible clamping features. Special hallmarks are: easily approachable from all 5-sides, small and equal collision contour, ideal deployment of resources, just-in-time production due to short set-up and cutting times and an incredible versatility thanks to the HAINBUCH modular system.
The jaws are resting on the clamping unit, which are available in two different styles, and are either manually or hydraulically operated. With just four screws and a 90 degree turn of the clamping unit you can separate the upper from the lower units. Within a few minutes a new clamping device is created. If you set up jaws or segment bushings externally you are saving even more valuable time. Meanwhile the actuation unit remains fastened on the machine table permanently. Depending on the application, the operator can choose different jaw packs or set up the unit for either ID or OD clamping by utilizing the available adaptations. There are no limitations for the flexibility. The system also ensures greater flexibility when it comes to clamping height: The lowest clamping base is at 195mm when using the QUADROK clamping units 120 and 200. Utilizing the mandrel adaptation for ID clamping brings it down to 115mm. Even on large machining tables, all five sides of a work piece are thus easily accessible.
Centric 4-Jaw Clamping, Tolerance compensation and high clamping force The QUADROK's entire performance is played out by its clamping versatility. Whether simple steel or complex casting parts, thanks to an interface which is attached to the base jaws with a pointed serration, everything can be clamped without problem. Depending on how the jaws are milled out makes it feasible to machine cubical or round parts. The inner components of the actuation unit are typical HAINBUCH-like providing an active pullback effect. Therefore, even material tolerances of +/- 1.0mm can be compensated because the raw material is always pulled to the clamping center by its four jaws. Hence, the user can utilize less expensive material with larger tolerances, while still being able to clamp work pieces securely and efficiently.
Depending on the version, the clamping ranges are from 0-150mm for QUADROK 120 and 80-25 0mm for QUADROK type 200. The jaw pairs of the QUADROK each provide 31KN while providing an actuation force of 97Nm at the manual jaw and 50 bars for the hydraulic clamping unit. Whether static or moveable jaws is entirely depending on the clamping application. For instance, if a moveable jaw is replaced by a static one, a clamping situation towards a static end-stop with three actively clamping jaws is established. The work piece is literally forced into a corner. Of course a conventional vice clamping situation with two opposing jaws can easily be established. Additionally the jaws for the QUADROK can be machined to size for intricate work piece contours as well.