June 25, 2019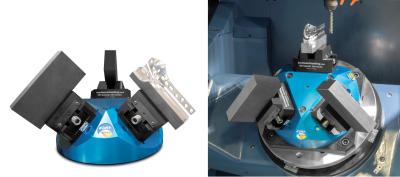 The new Kurt Pyramid workholding platform is designed to attach three Kurt vises for 5-axis machining multiple parts in one load. The 45-degree vise mounting surface is positioned so each vise provides maximum access to all machined surfaces and allows for enhanced spindle and cutting tool clearance.
The Pyramid platform is constructed of 7075 anodized aluminum and has a 12"-dia. base to fit a wide variety of 5-axis CNC machines. The Pyramid comes pre-drilled for easy mounting to most machine tables, pallets or wide variety of sub plates.
The Kurt vises that are designed to fit the Kurt Pyramid include 5 -axis Dovetail vises, and 5-axis Self-centering vises with a wide variety of workholding capacities. Workpiece sizes can range from 2" up to 12" blanks. The Kurt vise models equipped to fit the pyramid include these models: HP420, HP440, HP460, SCMX250, SCMX425, DTR20 and KTR35.
A variety of jaws can be utilized in the Kurt 5-axis vises from dovetail jaws, machinable jaws and serrated jaws. These options provide capability to hold machined dovetail workpieces, castings, round components ­­­and a wide variety of workpiece shapes.
Kurt Manufacturing can provide additional setup options such as quick-change pallet systems, hydraulic or pneumatic actuation, robotic machine tending for automation, in-process gaging and inspection.
Related Glossary Terms
clearance


clearance

Space provided behind a tool's land or relief to prevent rubbing and subsequent premature deterioration of the tool. See land; relief.

computer numerical control ( CNC)


computer numerical control ( CNC)

Microprocessor-based controller dedicated to a machine tool that permits the creation or modification of parts. Programmed numerical control activates the machine's servos and spindle drives and controls the various machining operations. See DNC, direct numerical control; NC, numerical control.

in-process gaging ( in-process inspection)


in-process gaging ( in-process inspection)

Quality-control approach that monitors work in progress, rather than inspecting parts after the run has been completed. May be done manually on a spot-check basis but often involves automatic sensors that provide 100 percent inspection.