October 03, 2019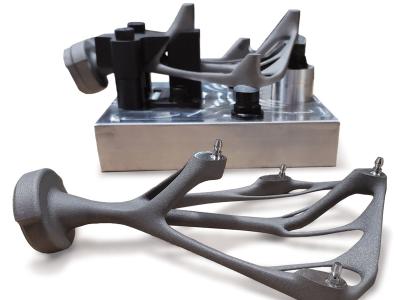 Blue Photon Technology & Workholding Systems LLC's workholding products are a manufacturer's solution to hold parts for tight-tolerance machining and inspection. Complex-shaped, hard-to-hold parts and delicate materials like ceramic and laminated composites are well suited to the technology, which supplies up to 605 lbs. of tensile holding power per patented gripper.
Any part that is at risk for distortion from mechanical clamps or that pose complications in fixture design and tool access are easily and simply held with Blue Photon's patented grippers and BlueGrip workholding adhesive.
Blue Photon's workholding grippers are a load bearing, light transmitting fixture component that lock the part in place for machining. Grippers are the foundation of the Blue Photon grip technology with multiple sizes designed to hold small to large size workpieces. The grippers are inserted into a fixture, the workpiece is secured to the grippers with BlueGrip, gel-like adhesive material, and ultraviolent light is transmitted through the core of the gripper for 60 second workholding.
Related Glossary Terms
composites


composites

Materials composed of different elements, with one element normally embedded in another, held together by a compatible binder.

fixture


fixture

Device, often made in-house, that holds a specific workpiece. See jig; modular fixturing.