June 25, 2018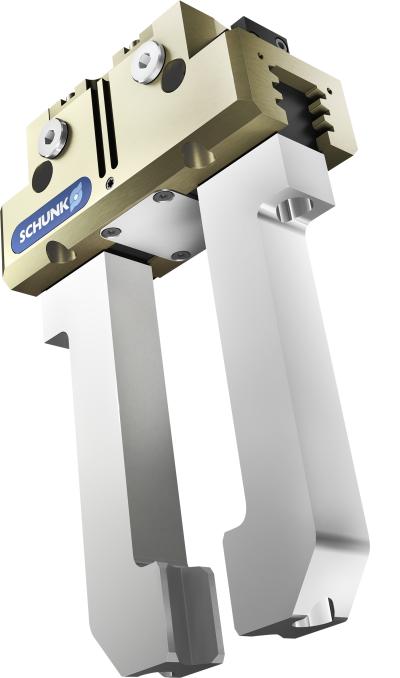 SCHUNK has introduced several improvements on the original PGN-Plus and has announced the newest generation gripper, PGN-Plus-P. Enlarged supporting dimensions between the six load-bearing shoulders of the multiple-tooth guidance allow higher moment capacity, which can accommodated longer fingers and greater loads.
Permanent lubrication is provided through continuous lubrication pockets in the guidance. For short strokes in particular, the principle of minimum quantity lubrication ensures quick and even distribution of the lubricant making the gripper nearly maintenance-free and considerably extends its service life.
The PGN-plus-P also has an enlarged drive piston area, which increases grip force so that higher workpiece weights can be handled. In addition to the larger piston, the wedge drive mechanism has been redisigned for lower friction and greater surface area which transmits more energy to the jaws creating even more grip force than previous generations.
The PGN-plus-P is suitable for use in areas with high temperatures, contamination and aggressive media, as well as for cleanrooms. On request, the module is available with spring safety, mechanical gripping force maintenance, compensation units for compensating angular misalignment, dust-proof versions, or as special high-precision versions. PGN-Plus-P continues to offer a complete list of options, including sensors, toolchangers, finger blanks and dust protection.
The PGN-Plus-P is available in sizes 50 to 125.