December 11, 2017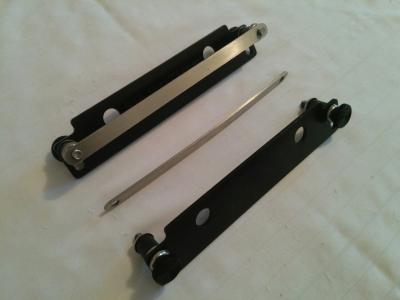 Parallel Keepers - Separators are available from Sta-put123.com. They are hardened and ground, plated, 0.0002" flat, and parallel.
They solidly hold parallels 1/32", 1/8" and 1/4" with torsion bar, and each holder stays together as a unit without run maintenance. They will not move under heavy weight or cleaning, no fear of chip impression damages, and are simple to install.
The durable "for life" stainless tool product eliminates operator errors on long parts runs, according to the company. Works with all Kurt style 6" vises. Greatly reduces the need for soft jaws (other than profiling) and allows for machining parts as small as 1/8" and as large as full travel.
No special tools are required. Thumbscrew installation, with plastic caps over stainless socket head. The patent pending product is only available direct from manufacturer at this early time. Online ordering at introductory price of $125; multiple pair pricing on request.
Related Glossary Terms
flat ( screw flat)


flat ( screw flat)

Flat surface machined into the shank of a cutting tool for enhanced holding of the tool.

parallel


parallel

Strip or block of precision-ground stock used to elevate a workpiece, while keeping it parallel to the worktable, to prevent cutter/table contact.