March 01,2015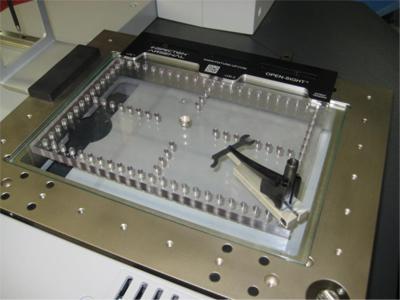 Phillips Precision Products Div. has designed a work holding kit for Vision Inspection that complements its Open-Sight LEAN, fast-swap fixture plate system. The work holding kit includes Trigger-Finger and Trigger-Point hold downs, a clear acrylic platform for extending work out over the viewing area, hole adjusters, Sliding Stop and Spring-Loc stops and clamps perfect for holding work on your optical stage. All items are packaged in a 5S foam container ready to display.
Work holding kits can be ordered separately or combined with two new discounted bundles. Open-Sight Vision Fixture Systems include the work holding kit and a choice between two size docking rails and fixture plates: 1) A 6" docking rail, a 6x6" fixture plate, plus a 30 piece work holding kit or 2) A 12" docking rail, a 12x8" fixture plate, plus a 30 piece work holding kit.
Open-Sight docking rails and plates are the vision adaptation of the popular Loc-N-Load aluminum plates designed for traditional CMMs.
According to the company's co-owner, Catherine Phillips, "We've been asked more times than I can count to replicate our unique interlocking system for vision. Now vision users can enjoy the benefits of our affordable, ready-made inspection fixture components."
All Inspection Arsenal designs are LEAN, technique-altering solutions that help break inspection bottlenecks affordably.
The simplicity and flexibility makes Open-Sight the clear choice for any size vision stage. If purchasing individually, customers can choose 6" and 12" length docking rails. Either size can be joined end-to-end for added length. On larger machines, docking rails can be installed opposite one another to create more "locations" and for greater stage coverage. Magnetized, interlocking half inch thick scratch-resistant polycarbonate plates are available in sizes 6x6", 6x8", 8x8", and 12x8". Each plate is offered with patterns of ¼-20 or M6 threaded holes to accept Inspection Arsenal trigger-action clamps. Blank plates are also available at a reduced cost for customers to add holes only where needed.
Related Glossary Terms
fixture


fixture

Device, often made in-house, that holds a specific workpiece. See jig; modular fixturing.