July 01,2014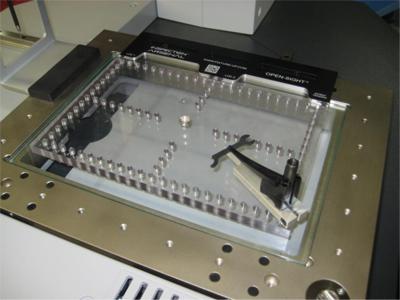 Phillips Precision announced the latest weapon in its Inspection Arsenal, Open-Sight, the lean, fast-swap fixture plate system for vision inspection. Open-Sight docking rails and plates are the vision adaptation of the popular Loc-N-Load aluminum plates designed for traditional CMMs.
According to the company's co-owner, Catherine Phillips, "We've been asked more times that I can count to replicate our unique interlocking system for vision. Now vision users can enjoy the benefits of our affordable, ready-made inspection fixture components."
All Inspection Arsenal designs are technique-altering solutions that help break inspection bottlenecks affordably, according to the company. The simplicity and flexibility makes Open-Sight suitable for any size vision stage. Customers can choose 6" and 12" length docking rails. Either size can be joined end-to-end for added length. On larger machines, docking rails can be installed opposite one another to create more "locations" and for greater stage coverage. Magnetized, interlocking ½"-thick scratch-resistant polycarbonate plates are available in sizes 6" x 6", 6" x 8", 8" x 8" and 8" x 12". Each plate is offered with patterns of ¼-20 or M6 threaded holes to accept Inspection Arsenal trigger-action clamps. Blank plates are also available at a reduced cost for customers to add holes only where needed.
Users have the option to dedicate a low-cost plate for gauging to speed up re-calibration, a significant time-saver especially on multi-sensor machines. Dedicate plates for repeat parts when it makes sense for a fixture to become part of a job kit for lean set-up reduction. Phillips Precision plans to add plate sizes and welcomes inquiries about fixture solutions.
The vision fixture plate system is affordable and flexible enough to:
• Reduce Startup Costs: Purchase only the plates you need.
• Customize Affordably: Choose only the configurations that work for you.
• Simplify setups and "fixture-up": Use as dedicated tooling for production jobs.
• Enhance your investments: Fast inspection improves the production pipeline.
Related Glossary Terms
fixture


fixture

Device, often made in-house, that holds a specific workpiece. See jig; modular fixturing.