August 13, 2018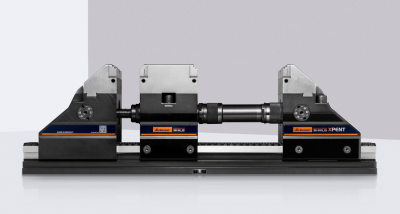 The Hoffmann Group has introduced a new module for their GARANT Xpent 5-axis vice to the market. This new center jaw, which can be optionally fitted to the base rail, has now made it possible to clamp two workpieces with just one vice, and to process these in a single operation. This mean clamping strategies that are more efficient can be implemented, leading to a measurable increase in productivity.
The GARANT Xpent is based on a modular design concept. Clamping modules, base rails and spindles can be individually combined, and the convex clamping modules can be turned 180 degrees. The newly developed center jaw offers another bonus in terms of flexibility and is immediately available as an accessory for sizes 0 to 1S and will soon be available in sizes 1 and 2. The existing range of attachment rails, each with two clamping stages, is fully compatible with the new center jaw.
The GARANT Xpent has a clamping force of up to 40 kN at a torque of 90Nm and is available in three different heights and two widths. Base rails are available in lengths of 360 to 1,050 millimeters. The new 1S size was specially developed for 3- and 5-axis machines with small spindle gear boxes. The vice was awarded an IF Design Award 2018 for its functionality and attractive design.
Related Glossary Terms
modular design ( modular construction)


modular design ( modular construction)

Manufacturing of a product in subassemblies that permits fast and simple replacement of defective assemblies and tailoring of the product for different purposes. See interchangeable parts.