January 09, 2017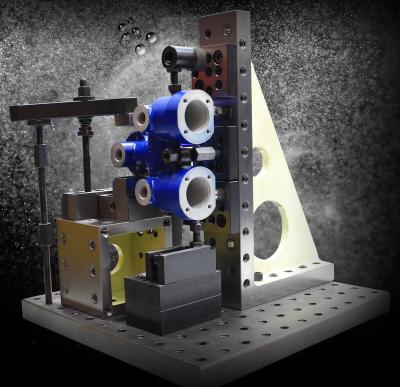 Bluco Corp.'s modular fixturing system is for fixturing low-volume/high-mix work. Using an alternating pattern of dowel and tapped holes, fixture plates are accurate to +/- 0.0004" between centers.
For horizontal applications, baseplates can be integrated with new or existing tombstones. A ball lock feature can be added for off-line fixture setup and quick changeover between jobs. Hundreds of components are available for locating and clamping parts of any style and shape.
Related Glossary Terms
centers


centers

Cone-shaped pins that support a workpiece by one or two ends during machining. The centers fit into holes drilled in the workpiece ends. Centers that turn with the workpiece are called "live" centers; those that do not are called "dead" centers.

fixture


fixture

Device, often made in-house, that holds a specific workpiece. See jig; modular fixturing.

modular fixturing


modular fixturing

System in which fixtures are constructed from standardized, reusable components. Fixtures are assembled and disassembled quickly. Basic styles are subplate, dowel-pin and T-slot. See fixture; modular tooling.