June 01,2014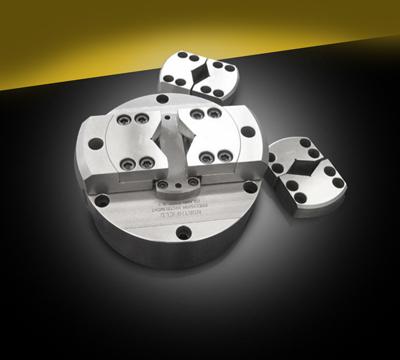 Northfield Precision Instrument Corp. introduces its Model 870 sliding-jaw air chuck (.0001 TIR). This air-actuated chuck has two moving jaws for gripping square or rectangular parts.
In this custom application, the company's customer requested Vee-block type jaws to accommodate a range of drill sizes with each set of Insert Pads. The drill tip (not shown) stops on the axial locator (mounted to the face of the chuck), and the Insert Pads (mounted in their subjaws) clamp down on the OD of each drill while they grind its shank.
The insert pad and subjaw arrangement allow for quick changeover from size to size.
Related Glossary Terms
chuck


chuck

Workholding device that affixes to a mill, lathe or drill-press spindle. It holds a tool or workpiece by one end, allowing it to be rotated. May also be fitted to the machine table to hold a workpiece. Two or more adjustable jaws actually hold the tool or part. May be actuated manually, pneumatically, hydraulically or electrically. See collet.

outer diameter ( OD)


outer diameter ( OD)

Dimension that defines the exterior diameter of a cylindrical or round part. See ID, inner diameter.

shank


shank

Main body of a tool; the portion of a drill or similar end-held tool that fits into a collet, chuck or similar mounting device.