January 01,2014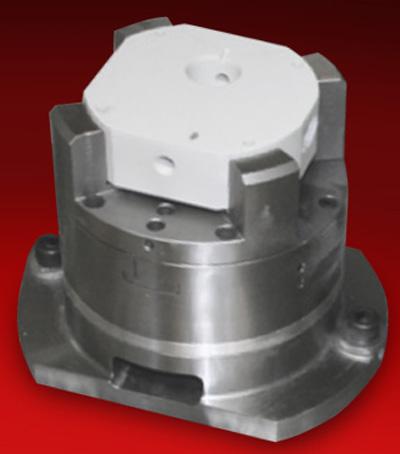 Northfield Precision Instrument Corp. introduces its Model 670 air chuck. This chuck has two sliding jaws (0.0001" TIR) with special top tooling. The customer needed to grip the OD of a molded plastic part and have access on all four sides for machining in two setups: rotary and stationary.
Specially contoured top jaws, along with a shuttle pin for location (not shown), were created and mounted to Northfield's standard chuck to achieve this.
Related Glossary Terms
chuck


chuck

Workholding device that affixes to a mill, lathe or drill-press spindle. It holds a tool or workpiece by one end, allowing it to be rotated. May also be fitted to the machine table to hold a workpiece. Two or more adjustable jaws actually hold the tool or part. May be actuated manually, pneumatically, hydraulically or electrically. See collet.

outer diameter ( OD)


outer diameter ( OD)

Dimension that defines the exterior diameter of a cylindrical or round part. See ID, inner diameter.