March 01, 2015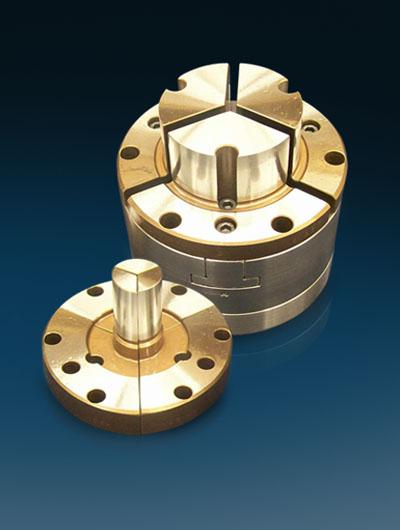 Northfield Precision Instrument Corp. introduces its Model 450 Sliding-Jaw Air Chuck. This air chuck (0.0001" TIR) has special ID-gripping top jaws and an integral axial locator.
Northfield Precision Instrument has a customer who inspects and balances torque converters and other driveline parts. The customer requested a chuck that could expand to grip the ID of their female splined shafts while it rotates on their balancing machine.
Previously, the customer used a "homemade" fixture that had a slip-fit without the expanding capability to grip the ID of the part. Northfield custom-designed the Model 450 sliding-jaw air chuck to also grip the ID of the part.
Related Glossary Terms
chuck


chuck

Workholding device that affixes to a mill, lathe or drill-press spindle. It holds a tool or workpiece by one end, allowing it to be rotated. May also be fitted to the machine table to hold a workpiece. Two or more adjustable jaws actually hold the tool or part. May be actuated manually, pneumatically, hydraulically or electrically. See collet.

fixture


fixture

Device, often made in-house, that holds a specific workpiece. See jig; modular fixturing.

inner diameter ( ID)


inner diameter ( ID)

Dimension that defines the inside diameter of a cavity or hole. See OD, outer diameter.