February 18, 2019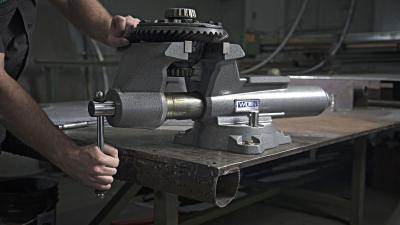 The new Wilton Mechanics Pro Vise features an exclusive needle roller thrust bearing design. What sets the design apart is its ability to deliver maximum clamping force with less operator effort. Operator's engagement is minimized when the clamping force is released.
The Mechanics Pro Vise isn't limited to professional mechanics. Its robust and durable design makes it a reliable shop choice for industrial, manufacturing, construction and oil and gas applications as well. For 78 years, Wilton has been manufacturing vises such as the iconic TradesmanBullet Vise, for manufacturing facilities, as well as other industrial installations throughout the U.S.
These are not "me too" vises. Wilton's Mechanics Pro Vises are available in five jaw sizes from 4-1/2", 5-1/2", 6-1/2", 8" and 10" jaw widths. What distinguishes these heavy-duty vises is their premium materials, and other structurally sound intrinsic features such as an enclosed spindle, precision machined slide bar, innovative needle roller thrust bearing design, and 360º swivel base. The Wilton vises are backed by the company's lifetime warranty.
Shop environments can get awfully dirty with grease, oil, lubricants and other solvents. They can wreak havoc on the vises internal parts. Wilton's enclosed spindle vise eliminates the problem, as well as corrosion and provides smooth, consistent operation. This feature extends the life of the vise by protecting internal components. The vises are factory lubricated and permanently enclosed with lifetime lubrication for trouble-free service and operation.
The stout Mechanics Pro vises are virtually indestructible with a 60,000-psi ductile iron movable jaw and base to handle stress while providing long lasting durability in the most demanding shop conditions.
The vises also feature an anvil with a large surface area for meet striking and forming tasks. The anvil is designed to take blow after blow while forming and shaping materials.
The 360º swivel base has double lockdowns to secure the vise to a shop bench.
The Wilton Mechanics Pro Vises (4-1/2", Model 845M, $239.99 MSRP); (5-1/2", Model 855M, $309.99 MSRP); (6-1/2", Model 865M, $399.99 MSRP); (8", Model 880M, $599.99 MSRP) and (10", Model 8100M, $829.99 MSRP) are available through industrial distributors and online retailers.
Related Glossary Terms
shaping


shaping

Using a shaper primarily to produce flat surfaces in horizontal, vertical or angular planes. It can also include the machining of curved surfaces, helixes, serrations and special work involving odd and irregular shapes. Often used for prototype or short-run manufacturing to eliminate the need for expensive special tooling or processes.