September 01, 2014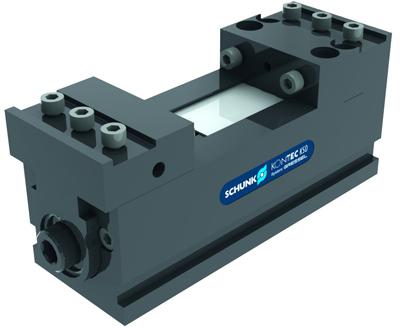 The KSO from Schunk Inc. is a specially developed single-acting clamping vise and can be easily adjusted to customer-specific specific requirements. Its basic principle incorporates an encapsulated spindle drive, which prevents the accumulation of chips, dirt or dust.
This modular clamping system has a comprehensive range of jaws, an aluminum quick-change jaw system, and is easy to adjust because the clamping ranges can be moved without remounting the jaws.
The large range of modular jaws makes the KSO perfect for small, large, and circular parts, as well as parts that are unfinished and finished. The jaws are quickly and easily moved to the desired clamping position by the spindle drive. The appropriate tightening torque ensures work pieces are held securely for both OD and ID clamping. Lifting of the jaws under clamping force is reduced by the long jaw guidance.
The KSO is the affordable solution for single and multiple piece applications, according to the company. It works ideally on tombstones and pallets.
Related Glossary Terms
inner diameter ( ID)


inner diameter ( ID)

Dimension that defines the inside diameter of a cavity or hole. See OD, outer diameter.

outer diameter ( OD)


outer diameter ( OD)

Dimension that defines the exterior diameter of a cylindrical or round part. See ID, inner diameter.