January 13, 2013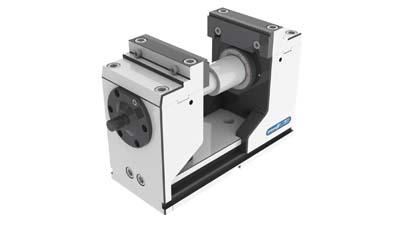 The KONTEC KSX NC vise from SCHUNK is a powerful clamping system for simultaneous 5-axis machining. The compact and easily accessible clamping system can handle tool-free adjustable clamping forces between 4 and 40 kN, (measured directly at the workpiece.) This offers a safe and secure hold, even for minimum clamping surfaces. The support surfaces at a height of 211mm ensure that the workpieces are easily accessible from all sides. With just one lever rotation, they are quickly clamped, resistant to vibrations, and have a high repeat accuracy.
Since the unit is draw bar actuated, the bending load at the base body is highly reduced. Moreover, the long guiding system and the arrangement of the clamping mechanism ensure a very stiff, dimensionally stable set-up. The drive and the adjustment mechanism of the 5-axis clamping vise are completely encapsulated and thus protected against chips, dirt, and coolant, and the easy-to-clean design reduces build-up of chip clusters.
The KONTEC KSX fits smoothly into the SCHUNK modular system for highly efficient workpiece clamping. Therefore, the clamping pins of the VERO-S quick-change pallet system can be directly integrated into the base body of the 5-axis clamping vise. Combined with the quick-change pallet system it can be quickly exchanged with a maximum repeat accuracy on the machine table.
Optionally, the vise can be equipped with standard, aluminum, special 5-axis top jaws, or pendulum plates and many other standard chuck jaws from SCHUNK. The clamping range of the KONTEC KSX lies between 0 — 250mm. By using draw bar and base body extensions, the clamping range can be enlarged to 749mm.
Related Glossary Terms
chuck


chuck

Workholding device that affixes to a mill, lathe or drill-press spindle. It holds a tool or workpiece by one end, allowing it to be rotated. May also be fitted to the machine table to hold a workpiece. Two or more adjustable jaws actually hold the tool or part. May be actuated manually, pneumatically, hydraulically or electrically. See collet.

coolant


coolant

Fluid that reduces temperature buildup at the tool/workpiece interface during machining. Normally takes the form of a liquid such as soluble or chemical mixtures (semisynthetic, synthetic) but can be pressurized air or other gas. Because of water's ability to absorb great quantities of heat, it is widely used as a coolant and vehicle for various cutting compounds, with the water-to-compound ratio varying with the machining task. See cutting fluid; semisynthetic cutting fluid; soluble-oil cutting fluid; synthetic cutting fluid.

numerical control ( NC)


numerical control ( NC)

Any controlled equipment that allows an operator to program its movement by entering a series of coded numbers and symbols. See CNC, computer numerical control; DNC, direct numerical control.