July 01, 2010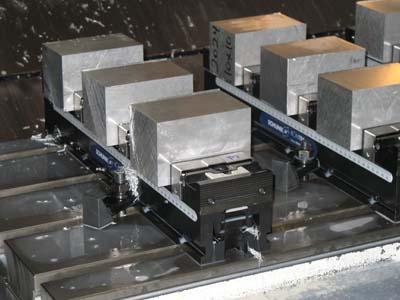 The KONTEC KSM vise from Schunk Inc. helps to increase efficiency in production and nonproduction applications with its multiple part-clamping features where several workpieces of the same size or different sizes can be held at the same time. This simple and quick system allows operators to reduce set-up costs and increase the number of parts under the spindle. The KSM has vertical serration on the inner side of the clamping rail. This keeps the serrations clean from chips and swarf and allows the jaw modules to be positioned quickly and accurately with one hand. To fix the jaws, just one screw has to be turned 180 degrees. This unique concept is resistant to contamination, thus ensuring trouble-free clamping at any time, according to the company. The vise jaws are based on the wedge-hook principle, provide pull-down effect and allow safe clamping of workpieces. As a result, high precision even at high chip-removal rates is guaranteed. The clamping system consists of a corrosion resistant 65 or 90mm wide clamping rail and is available in a variety of lengths. The vertical serration within the rail ensures workpiece support on a smooth surface. Since no chips can jam the rails, the system is protected against damage and wear and assures a high service life. The KONTEC KSM clamping device has mounting bores for easy assembly onto a grid table and vertical grooves for mounting on machine tables with T-nuts and complements the Schunk Vero-S Quick Change Pallet system.
Related Glossary Terms
swarf


swarf

Metal fines and grinding wheel particles generated during grinding.