May 12,2012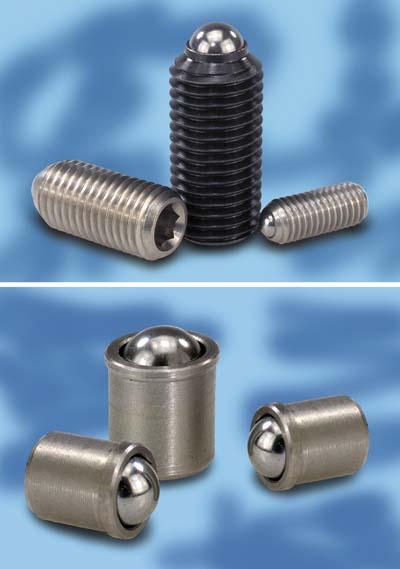 Fixtureworks offers an expanded lineup of Kipp Spring Plungers to its offering of workholding and fixturing technologies.
The spring plungers, including both threaded and press fit styles are used to locate, stop, align and hold parts in a variety of applications. They are ideal for use in fixturing applications where pressure is required for accurate positioning; to provide simple "lock and release" actuation; to apply force that helps to disengage or "lift" workpieces from workholding devices for easier removal; and to provide spring tension for bumper-type cushioning of parts.
The spring plungers are available in both ball and pin type styles, ranging in size from 6-32 to 5⁄8-11 and in metric (M3-M24). Spring forces range from light (0.34 lb) initial force to heavy (60.7 lb) end force. The plungers are offered in both steel with black oxide finish, or in stainless steel and in an array of lengths. Options include balls and pins made of steel, stainless steel and Delrin along with various insertion methods including slotted drive, hex socket, and top slot (plunger end) style for use in blind-hole applications. Press fit plungers feature a thermoplastic or stainless steel body; both with stainless spring and stainless, hardened ball.
Related Glossary Terms
black oxide


black oxide

Black finish on a metal produced by immersing it in hot oxidizing salts or salt solutions.

blind-hole


blind-hole

Hole or cavity cut in a solid shape that does not connect with other holes or exit through the workpiece.