July 19,2018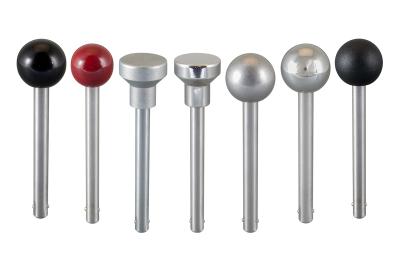 WDS Component Parts Ltd. has extended its range of detent pins, including new type of grips so that customers can choose a style on aesthetic or ergonomic grounds. Detent pins are a quick and easy way to locate and secure parts in place. In use they are manually pushed into place to hold the parts and lock themselves into position by way of a pair of spring loaded ball bearings at the leading end. However, the pin can be removed with a sharp tug.
To make them easier to use, WDS has introduced a number of different options of ball grips and knobs. These can be either ball- or mushroom-shaped and made of polished or matt stainless steel, red or black Bakelite or black thermoplastic. They are sized and shaped for comfortable but effective grip.
These new pin options complement WDS's existing range that includes versions with a collar or ring at the rear end, the latter being suitable for attaching a lanyard, retaining chain and/or a label.
A chamfer on the leading-edge aids insertion during use. The 316-grade stainless steel from which the pins are made is resistant to corrosion.
The WDS detent pin range covers diameters of 6mm, 8mm and 10mm, and is available in a number of standard lengths from 15mm to 100mm. WDS also maintains stocks of pins in Imperial sizes and the range includes a heavy-duty design suitable for tough working duties.