February 27, 2021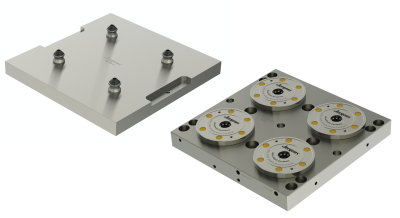 Jergens Inc. announces its two new sets of solutions within the company's popular Zero Point System (ZPS) product range that provide a further-optimized basis for part changeover and machining performance.
The first set of additions includes a choice of six different pneumatic subplates, each featuring pre-installed low pressure pneumatic clamping modules. In total there are three 2-module units and three 4-module units to suit different machine table configurations. The pneumatic subplates are constructed of Fremax 15 Steel (or equivalent) and include quick connects for changeover speed and porting for blowout in between machining cycles. System repeatability is less than 0.005 mm (0.0002 in).
The second set of additions is comprised of aluminum or steel fixture plates with pre-installed pull-studs. The two-stud model is suitable for two module subplates and includes one ZPS stud and one timing stud. The four-stud model, suitable for four module subplates, includes ZPS and timing studs plus two additional clearance studs. Custom sizes available to suit specific needs.
"By adding standardized pneumatic subplates and fixture plates, we're offering our customers an important set of optimized choices to make it even easier for them to install and use ZPS", says Mike Antos, Workholding Solutions Product Manager for Jergens Inc.
Jergens ZPS allows customers to fix, position and clamp tooling or workpieces, all in a single step to reduce part changeover time with no loss in accuracy. The unique technology is said to reduce set-up time by as much as 90%. The ZPS product range includes a variety of fixture plates, subplates, clamping modules and other accessories as well as kits.