March 30, 2021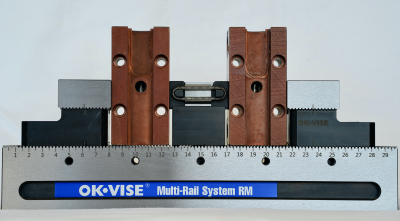 Jergens Inc. announces expanded Multi-Rail solutions for its OK Vise range of low-profile modular clamping. The additions include a number of Parallels and Side Guides for positioning, as well as Clamp and Stop Modules to hold workpieces securely during machining.
T Slot, magnetic (including a tall version) and Snap-in Parallels assist in the positioning of a workpiece on the RM rail, avoiding contact with the serrations through a raised datum surface. Choose from T-nut, magnetic mount or snap-in for even faster installation. Mechanical and magnetic Side Guides also assist in positioning the workpiece on the Multi-Rail. They are mounted either to the tapped holes in the side of the rail or via the strong magnet for a wide range adjustment and the ability to move rapidly from one location to another. Users can adjust each side guide for a specific product while keeping the guide ready for the next production batch.
Holding workpieces securely with OK Vise is done with Clamp and Stop Modules. New B and D Series Clamp Modules feature a standard clamp combined with a riser plate (B Series only), socket head cap screw, and t-nut, as well as a choice of jaw faces – smooth, serrated, mixed and mounting jaw. Stop Modules hold fast against clamping pressure and are available in several styles including smooth, serrated, knife, V-stops – both vertical and horizontal – and more.
In total, these workholding innovations perform with high repeatability on Jergens OK Vise Multi-Rail system, a unique general-purpose workholding solution. Several advantages of this system include near-endless fixture configurations, holding and machining challenging workpieces both large and small including multiples clamped simultaneously, and the ability to mount to the Jergens QLS Grid System.
Related Glossary Terms
fixture


fixture

Device, often made in-house, that holds a specific workpiece. See jig; modular fixturing.