March 25, 2019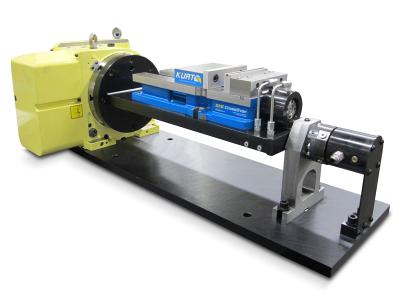 The Kurt newly designed rotary table workholding system is designed using the Kurt DX6 CrossOver hydraulic vise with a trunnion mounted onto a 4-axis rotary table. The system uses double-acting hydraulics, which is desirable for automated part loading and unloading via a robotic system. Additionally, the system can be used for manual part loading and unloading.
The Kurt Rotary Table Workholding System is suited for 3-axis vertical machining centers and provides three-side access to the part to be machined. With the addition of the Kurt system more complex machining and contouring work can be accomplished
Using the DX6 CrossOver hydraulic vise, new levels in secure hydraulic gripping can be achieved. The vise is manufactured to the ideal flatness, parallelism and strength for critical high-precision machining. The vise's high clamping force keep workpieces rigid as they are machined on each side.
The DX6 CrossOver hydraulic vise features a ¼" jaw stroke. The vise body also provides chip evacuation straight through the body at sides and end of vise to prevent chip build-up.
Additional features of the rotary table workholding system include: Complete integration of workholding, rotary table and mounting base. The DX6 CrossOver hydraulic vise includes a GrooveLock jaw plate and workstop are included for convenient part positioning. The DX6 CrossOver hydraulic vise has a larger and stronger bearing pack that increases durability and has longer life. A new brush seal design is for easier removal or replacement in the nut. Vise has an 80,000-psi ductile iron body, nut and movable jaw, a semihard steel screw and a hardened vise bed and jaw plates.
Related Glossary Terms
centers


centers

Cone-shaped pins that support a workpiece by one or two ends during machining. The centers fit into holes drilled in the workpiece ends. Centers that turn with the workpiece are called "live" centers; those that do not are called "dead" centers.