October 09, 2018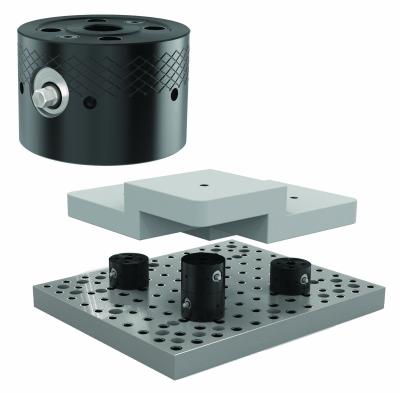 New Carr Lane Roemheld DropZero Modular Zero-Point Clamping System enables an end user to completely machine a workpiece in one setup, significantly reducing setup time and fixturing costs. With a few turns of a wrench, DropZero locates, supports and securely clamps the workpiece from underneath, providing full machining access to five sides.
Pull studs (round, diamond, and floating) are mounted directly to a part, and clamping modules can be mounted to anywhere on the fixturing plate, elevating the workpiece for machine-spindle clearance. Clamp modules are stackable for added clearance, and can fit on all of Carr Lane Mfg. Co.'s 1/2" and 5/8" modular tooling plates and blocks. They can also be used with nonmodular tooling.
Related Glossary Terms
clearance


clearance

Space provided behind a tool's land or relief to prevent rubbing and subsequent premature deterioration of the tool. See land; relief.

modular tooling


modular tooling

1. Tooling system comprised of standardized tools and toolholders. 2. Devices that allow rapid mounting and replacement of tools. Commonly used with carousel toolchangers and other computerized machining operations. See toolchanger; toolholder.