April 01,2010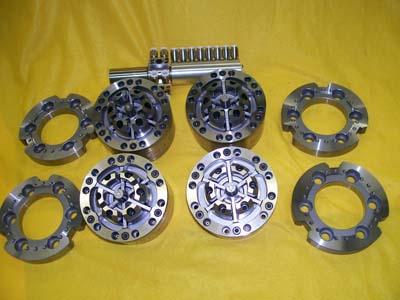 Northfield Precision Instrument Corp. has introduced its Model DPH-400W 4"-dia. diaphragm chucks with special jaws and stops. The stops have three small "air detect" holes for part seating conformation. Air is pumped through these holes, and when the part rests on the stop, the air pressure rises, tripping a pressure switch telling the machine to start machining. The four clover adapters have grooves for a CAM follower to snap into to orient the chuck when stopped. Up top is an eight passage rotary union to actuate all four chucks independently. These are mounted to a 4-spindle Theilenhaus machine.
Related Glossary Terms
chuck


chuck

Workholding device that affixes to a mill, lathe or drill-press spindle. It holds a tool or workpiece by one end, allowing it to be rotated. May also be fitted to the machine table to hold a workpiece. Two or more adjustable jaws actually hold the tool or part. May be actuated manually, pneumatically, hydraulically or electrically. See collet.

computer-aided manufacturing ( CAM)


computer-aided manufacturing ( CAM)

Use of computers to control machining and manufacturing processes.