November 07,2016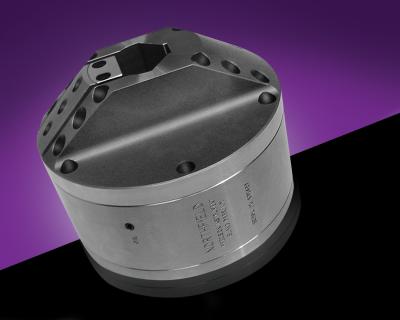 Northfield Precision Instrument Corp. designs and manufactures of precision workholding chucks. When a good customer required a chuck to hold parts to be mounted to a Studer grinder for contour grinding into special cutting tools, it turned to Northfield for help. Northfield's engineers customized the Model 650 chuck to use only one jaw for clamping.
A special face mounted "V" block jaw was bolted to the chuck face and picks up the "V" locating surfaces of the special cutting tools. The bolt on the "V" is made of hardened tool steel, and is wire cut to finish size. Only one of the chuck's three jaws is used for clamping by driving the work piece into the fixed "V" locator. To insure the flat on the moving
jaw aligned perfectly with the flats of the tool, an insert was used that allowed the flat to rotate into position, insuring full contact.
Related Glossary Terms
chuck


chuck

Workholding device that affixes to a mill, lathe or drill-press spindle. It holds a tool or workpiece by one end, allowing it to be rotated. May also be fitted to the machine table to hold a workpiece. Two or more adjustable jaws actually hold the tool or part. May be actuated manually, pneumatically, hydraulically or electrically. See collet.

flat ( screw flat)


flat ( screw flat)

Flat surface machined into the shank of a cutting tool for enhanced holding of the tool.

grinding


grinding

Machining operation in which material is removed from the workpiece by a powered abrasive wheel, stone, belt, paste, sheet, compound, slurry, etc. Takes various forms: surface grinding (creates flat and/or squared surfaces); cylindrical grinding (for external cylindrical and tapered shapes, fillets, undercuts, etc.); centerless grinding; chamfering; thread and form grinding; tool and cutter grinding; offhand grinding; lapping and polishing (grinding with extremely fine grits to create ultrasmooth surfaces); honing; and disc grinding.