February 25, 2016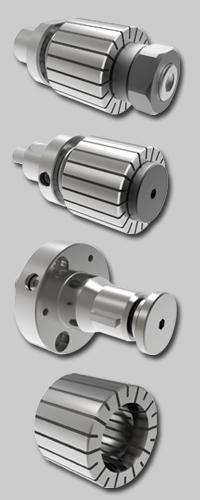 According to Royal Products, ID gripping is often overlooked as a workholding option, yet in many situations it is the best choice.
It allows for access to the entire length of the workpiece so all external surfaces can be turned in a single operation, ensuring perfect concentricity.
On subspindle machines, ID gripping on the second spindle eliminates the risk of surface damage that can be caused by second-op OD gripping on a previously turned diameter.
For many parts, the engagement length of an ID bore can be greater than what is available for OD gripping, resulting in superior rigidity and torque transmission.
ID systems tend to be more streamlined than OD systems, enabling better part access, which is especially important on machines with live tooling.
Related Glossary Terms
inner diameter ( ID)


inner diameter ( ID)

Dimension that defines the inside diameter of a cavity or hole. See OD, outer diameter.

outer diameter ( OD)


outer diameter ( OD)

Dimension that defines the exterior diameter of a cylindrical or round part. See ID, inner diameter.
Additional Products from Royal Products