September 13, 2013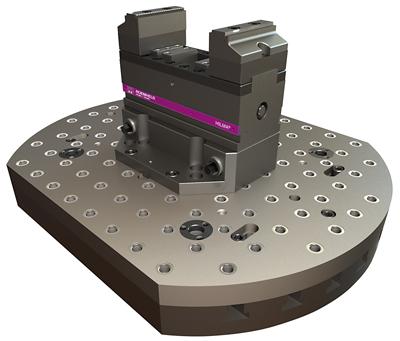 Carr Lane introduces the CL5 quick-change, 5-Axis workholding system. CL5 consists of three components: a subplate, a riser, and top tooling made up of a vise or a fixture plate. The subplate transforms a T-slot table into a modular fixturing plate, allowing flexible and easy clamping and locating of other tooling and/or fixtures. Every plate has built-in clamping and locating for risers, which allows for quick and accurate set-ups.
Designed to get the part up from the machine table, the Quintus quick-change riser allows 5-side part access. The Quintus combines the riser, quick-change capability and precise location in one piece. No other accessories are needed. A range of either fixture plates or vises can be readily mounted on top of the Quintus. Several versions of fixture plates and vises are available. Stocked and serviced in St. Louis, Missouri, the system's risers and vises are designed and built in Germany, the culmination of a 30-year relationship between Carr Lane and Roemheld.
The vises come in a range of sizes, including some concentric styles. Numerous jaw types and sizes are available to accommodate a wide variety of parts.
Related Glossary Terms
fixture


fixture

Device, often made in-house, that holds a specific workpiece. See jig; modular fixturing.

modular fixturing


modular fixturing

System in which fixtures are constructed from standardized, reusable components. Fixtures are assembled and disassembled quickly. Basic styles are subplate, dowel-pin and T-slot. See fixture; modular tooling.