September 29, 2022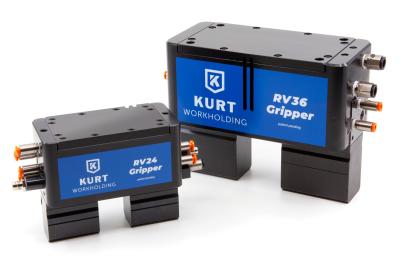 Minneapolis-based Kurt Workholding announced the launch of its new RV24 Robotic Gripper—a two-finger parallel gripper featuring a revolutionary patent pending design that allows automated finger/end effector changes without changing the gripper body itself. Quick change jaws allow customers to improve automation efficiency, save on gripper-body expenses and create greater part-holding flexibility.
Loaded with features, the compact Kurt RV24 Gripper comes standard with integrated electronics featuring sensors that ensure fingers and parts are in place and ready for production. High-strength aluminum alloy keeps gripper weight to a minimum while a hard-coat finish reduces wear and increases life in the field. New gripper size allows for smaller part handling, lighter minimum clamping force and easier storage where space is a premium. The RV24 is designed to work with a range of robotic applications and can perform well on cobots or smaller robots.
"When we introduced the RV36 back in 2020, we knew it would be the first in a family of robotic grippers," said Jeff Lenz, Executive Vice President, Proprietary Products, Kurt Manufacturing. "While working with customer's we determined that a smaller cobot-compatible gripper made the most sense as our next robotic automation product."
The Gripper's double-acting piston allows for flexible clamping and un-clamping force. Customers can choose from machinable aluminum or steel finger options that can be machined to work in a variety of applications. Additional finger sets are also sold separately along with finger clips for holding multiple gripper sets.
Related Glossary Terms
parallel


parallel

Strip or block of precision-ground stock used to elevate a workpiece, while keeping it parallel to the worktable, to prevent cutter/table contact.