January 22,2018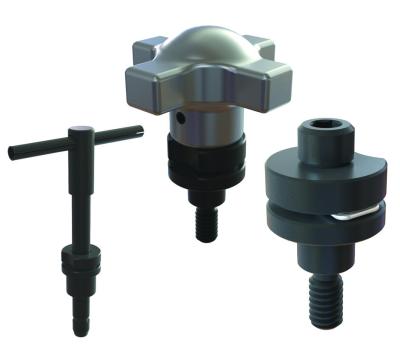 New captive locating screws and captive jig pins from Carr Lane Mfg. Co. are quick-acting, all-in-one assemblies to keep all tooling right at hand. Both assemblies have a precision-ground body that is positively retained in a locking bushing, with a spring clip that snaps into the body's radial groove. In addition, spring pressure holds the products in place, an advantage especially if the fixture is turned upside down while handling.
Captive locating screws can be used for locating and clamping in one action, or for clamping only, by selecting the appropriate screw length. Captive locating screws are available with a socket-head, hand-knob, or swivel-washer hand-knob, each in a wide selection of diameters and lengths. Watch for expanded product offerings later this year.
Captive jig pins provide quick-acting location without clamping, and also offer positive retention in a locking bushing. These pins are available in several locating diameters and have an integral shoulder to keep the handle raised.
Related Glossary Terms
bushing


bushing

Cylindrical sleeve, typically made from high-grade tool steel, inserted into a jig fixture to guide cutting tools. There are three main types: renewable, used in liners that in turn are installed in the jig; press-fit, installed directly in the jig for short production runs; and liner (or master), installed permanently in a jig to receive renewable bushing.

fixture


fixture

Device, often made in-house, that holds a specific workpiece. See jig; modular fixturing.

jig


jig

Tooling usually considered to be a stationary apparatus. A jig assists in the assembly or manufacture of a part or device. It holds the workpiece while guiding the cutting tool with a bushing. A jig used in subassembly or final assembly might provide assembly aids such as alignments and adjustments. See fixture.