December 24, 2020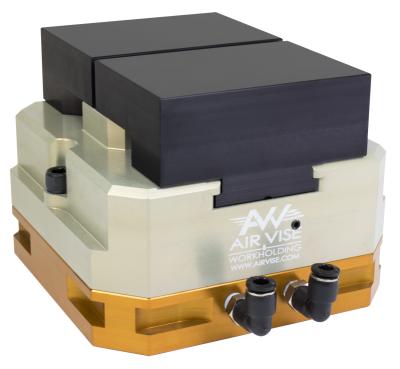 Air Vise & Workholding has been quietly developing a line of pneumatic vises to streamline a shops transition to automated machine tending. The AV-T-4 Table vise has a compact 6x6 inch footprint and is made from 7075 anodized aluminum with heat treated 17-4 stainless steel interior components.
A key benefit of this vise is the simple solution it provides for integrating automated machine tending into your machine shop. Air Vise offers an electric kit that allows a cobot/robot the ability to open and close the vise by controlling the air flow. By controlling the vise the robot can place intricate and uniquely shaped parts at ease. The table vise is equipped with quick change jaws that allow jobs to be switched in a breeze. A job can be switched over in a matter of minutes by simply selecting the new jaws and mill program.
Manual operation of the vise can be done with a simple push/pull valve eliminating the issue of under tightening or over torquing parts. The clamping generated by the vise is both reliable and repeatable. Standard shop air of about 110 Psi will generate roughly 2,500 lbf of clamping force which is more than enough to machine a majority of the smaller parts the vise would be used for.
Air Vise also offers a very similar rotary vise for 4th axis machining and is currently in the process of developing a fifth axis version to fulfill all your automated workholding needs.
Related Glossary Terms
milling machine ( mill)


milling machine ( mill)

Runs endmills and arbor-mounted milling cutters. Features include a head with a spindle that drives the cutters; a column, knee and table that provide motion in the three Cartesian axes; and a base that supports the components and houses the cutting-fluid pump and reservoir. The work is mounted on the table and fed into the rotating cutter or endmill to accomplish the milling steps; vertical milling machines also feed endmills into the work by means of a spindle-mounted quill. Models range from small manual machines to big bed-type and duplex mills. All take one of three basic forms: vertical, horizontal or convertible horizontal/vertical. Vertical machines may be knee-type (the table is mounted on a knee that can be elevated) or bed-type (the table is securely supported and only moves horizontally). In general, horizontal machines are bigger and more powerful, while vertical machines are lighter but more versatile and easier to set up and operate.

shop air


shop air

Pressurized air system that cools the workpiece and tool when machining dry. Also refers to central pneumatic system.